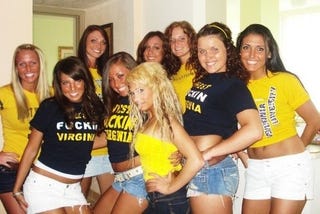 They've banned vuvuzelas at the Harvard-Yale game. And they're rocking out with their gamecock out for the South Carolina/Troy game.


Straight thuggin', Palmetto style.
Other games: Wisconsin at Michigan; Oklahoma State at Kansas; Purdue at Michigan State; West Virginia at Louisville and NC State vs. UNC.
Also, can Appalachian State ruin Florida's senior day? Will Western Michigan man up and hurt anybody on Kent State?
(Photo H/T Connor S.)