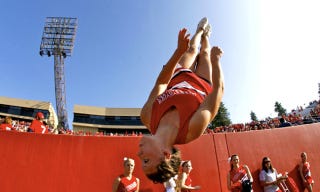 If you're so into college football that it overtakes ALCS Game Six tonight, here are your choices: No. 8 Clemson at Maryland (ESPNU); No. 17 Kansas State at Texas Tech; Florida at No. 24 Auburn (ESPN3); No. 7 Stanford at Washington State (Versus); and No. 3 Oklahoma at Kansas (ESPN2, 9:15 p.m.)
For those of you who like watching Oregon's cheerleaders, they host Arizona State in a legitimately big Pac 12 game at 10:15 p.m. eastern.
For those compulsive gamblers looking for one last break-even swing, Utah State at Fresno State (+3) is your potential savior.