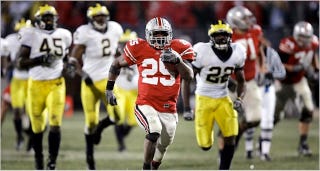 It seems like there has been a college football game on every day this week and today is no different. Here's your spot to talk about it all.
12:00 p.m.
Georgia at Georgia Tech gets things rolling for us over on ESPN. Meanwhile, everyone not in Georgia will be watching Ohio State at Michigan on ABC and waiting for Urban Meyer to be declared coach by halftime. Rutgers at Uconn is on ESPN2 for some reason. Michigan State at Northwestern and Tennessee at Kentucky (12:21 p.m.) will be shown on their respective conference networks.
2:00 p.m.
Boise State continues to be nationally disregarded and plays a game that will not be televised while ESPN3 continues to show things like Troy at Western Kentucky (12:30 p.m. start) and Nevada at Utah State.