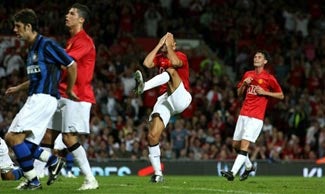 David Hirshey writes regularly for Deadspin about soccer. Here is his preview of the upcoming EPL season, which begins August 11.
Lately, I've been fantasizing about what it would be like to be Jason Bourne. It's not what you think. Yes, it would be nice to snap the neck of the new generation of soccer-bashers (Mariotti, Rome, Wojo, etc.), and it wouldn't have sucked to sleep with Franka Potente all these years.
No, the real reason I want to be Jason Bourne is that he can't remember his own name, which would come in pretty handy when deleting the gouge-your-eyes-out soccer tedium of the past month from your memory bank.
I don't know about you, but I couldn't take one more word on the status of Tevez's contract (and you think the NBA and NFL have credibility problems!), Adu's adieu (good luck, Freddy, you'll need it to avoid being relegated right back to MLS next season) or Becks' ankle (I feel much better now that Simmons has told me what to think about it) without turning the Glock on myself. Luckily, just when I reached my pain threshold, not to mention a toxic blood level of alcohol, along comes the start of the EPL season to give us a reason to live.
(more after the jump)
You remember the EPL? A bunch of fine young lads who would just as soon settle an argument with a pitching wedge as a Socratic debate. And now that my SECOND favorite team West Ham is Jew-nited —Berkovic and Benayoun will always have a seat at my seder table — and boasts two of these mouth-breathers in Bellamy and Bowyer (sad to see the Dyer deal go South, depriving the Hammers of a third), I'm more excited than ever. Now, instead of just focusing on whether Arsenal can break their record of stringing together 784 passes before shooting into Row Z, I have the additional incentive of checking out the East London police blotter every week.



Prediction No. 1: Bellamy and Bowyer will serve more jail time this season than Paris Hilton, Lindsay Lohan and Nicole Richie combined.



I'm not sure that this is what Leitch had in mind when he offered me half his future royalties from his forthcoming book (help me out with the math here: What's 50 percent of nothing?) to write an EPL preview. But, as I told him, no one — not even Tim Donaghy — knows jack-shit about how the league will turn out, so why bother making a fool out of myself and stating the obvious: That Arsenal will give the middle finger to all those prognosticators who have written them off.
Or in Gilberto's case, a big, hairy fist. As the Arsenal captain told the Sun: "So Drogba said we are of the title race. did he? Let's wait and see what happens. Guy talks too much, see, and guys with mouths as big as that might as well have a neon sign saying 'punch me.'" There are several reasons for Gilberto's brash confidence, but the two biggest are: a) Wenger, who, disgusted by Arsenal's less than clinical finishing last year, has attached electrical wires to his player's ball sacks, which he will zap the moment they take more than a half dozen touches in the box; and b) Eduardo Da Silva, who was born in Brazil but moved to Croatia as a teenager, which makes him Crozillian. He is nicknamed Dudu, but I, for one, see him as the new Kaka. (Sorry, I couldn't resist)
Relax, I'm only half serious. I don't truly believe that the baby Gunners (average age 23) have what it takes to win the Prem. But I'm willing to go out on a rotting limb and say that they will finish higher than Spurs and really, is there anything more important in life?



Prediction No. 2. Wenger and Jol will come to blows on the touchline during their September 15 match when the Tottenham manager does a Woody Hayes and clotheslines his fellow Dutchman Van Persie on a breakaway.



Realistically, of course, neither the Gunners nor the Spurs figure to induce any title -threatening palpitations in Fergie or Mourinho, both of whom start the season with the most to lose. By adding Tevez, Hargreaves, Nani, Anderson and nine-year-old Australian sensation Rhain Davis to the swashbuckling juggernaut that won last year's trophy, United has done two things: They have established themselves as prohibitive favorites to win it again, and they have created the EPL's most lethal — as well as the ugliest — partnership in Rooney and Tevez.



Chelsea, by contrast, simply plugged a few holes in their grindingly efficient machine — Malouda, Ben Haim, Pizarro — confident that 2006 was an aberration and Sheva and Ballack are not the empty sausage cans they looked to be in their first Prem season. One thing we're certain of is that Drogba will need to have another EPL Player of The Year campaign (yeah, I know Ronaldo was VOTED the award, probably by the same people who chose Apollo Ono over Joey Fatone) if the Blues have any hope of overhauling United.



Prediction No. 3. Mourinho, his vow of becoming The Mellow One notwithstanding, loses his shit while Drogba, Essian, Mikel and Kalou are away for a month at the African Nations Cup and stalks out of Stamford Bridge, calling Abramovich, somewhat improbably, "the son of a Portuguese whore."
And what of Liverpool, the most busy of the so-called Big Four in the offseason? Not since Tom Hicks backed up the Brinks truck for Alex Rodriquez has the new Liverpool owner seen so much of his cash lavished on players to transform a team that finished last season behind only ManU and Chelsea. In their desperation to break a 17-year-old Prem drought, the Reds look almost as unrecognizable as Vito Spatafore when he first donned a leather corset.
Even Manager Rafa Benitez is getting in on the New Liverpool act, sporting a goatee that makes him resemble a Spanish Phil Collins. The new messiah is Fernando Torres, the $50m signing from Athletic Madrid who Benitez swears is good for 20 goals, or eight more than any Liverpool striker has scored in his four-year reign. Dutch wonderboy Ryan Babel will wreak havoc on the flanks with his blistering pace, and let's not forget that the robotic beanpole Peter Crouch is still around to not get his head on the end of one of his crosses.



Prediction No. 4. In an effort to disappear completely, Benitez beefs up the goatee and goes for the full Tom Hanks-Castaway look once Torres goes scoreless over the first eight games.
And now, for what it's worth (help me out here: What's 100 percent of nothing?), here's how I see the final standings. Feel free to clip and save and come looking for me at Kinsale Tavern when it turns out I have not predicted a single correct finish.
One word of advice, though: Make a cheap Arsenal joke and I'll go all Jason Bourne on your ass.



Man U

Chelsea

Arsenal

Liverpool

HarperCollins United

Tottenham

Newcastle

Aston Villa

West Ham

Man City

Blackburn

Portsmouth

Everton

Reading

Bolton

Middlesbrough

Birmingham

Wigan

Fulham

Sunderland

Derby