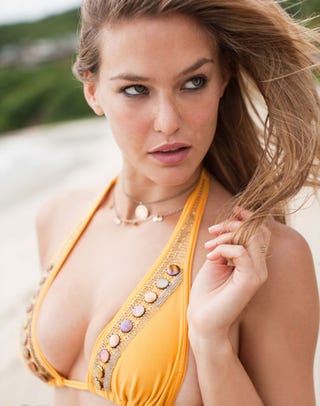 But you don't understand! This is a sports magazine! It's totally cool!
Yes, this is the one day of the year when everyone gets to pretend that barely clothed models covered in wet sand is really a tribute to the athletic spirit. (And we also get to pretend that a thong and see-through silk shirt is really a "swimsuit.")
Danica Patrick is back again for some reason, as are lithesome European tennis babes, but SI did a complete 180 by replacing the NFL cheerleaders with ... get this ... NBA dancers! Crazy, but true! How do they do it, man? How do they do it?
Anyway, you don't even need the magazine, because there's about a million new photos posted on their website so depending on the security in your cubicle, we'll see you sometime on Thursday. For those of you stuck on Deadspin today, here's a small taste: