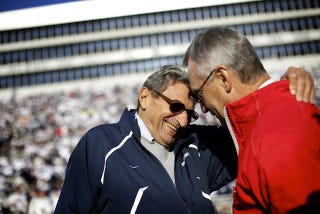 Here is your afternoon slate of games. Feel free to chat about them in the comments below.
3:30 pm
CBS has Mississippi State at Arkansas and, depending on your location, ESPN or ABC will be showing Clemson at N.C. State or Penn State at Ohio State. Texas Tech at Missouri may also be on ABC, also depending on your location. Finally, Colorado State at TCU will be on Versus.
4:00 pm
In a stunning turn, Boston College at Notre Dame will be aired on NBC. ESPN3 will also be showing Navy at San Jose State and Utah State at Idaho (5:00 p.m. kickoff).