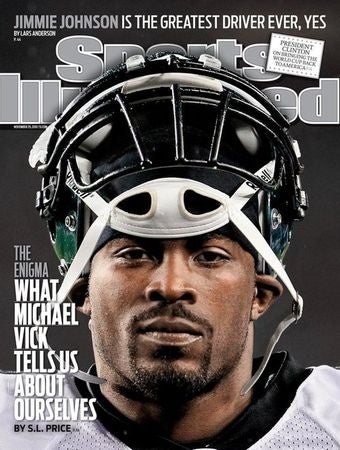 There's been a lot of Mike Vick talk this week. Probably because he's the most interesting non-concussion NFL story. Living 10 miles from where he works creates an inherent bias, though. So, is Vick's "comeback" the top storyline?
His pivot from inmate 33765-183 to Philadelphia Eagles superhero is about the public's ability to forgive or its jock-sniffing blindness or its short memory. It's about man's ability to change or to lie, paying one's debt to society or getting away with murder. It's the triumph of greed over principle, or mercy over horror. It's about loaded words like gullibility, redemption, fame and trust. [Sports Illustrated]
That question that should get us through a slate of games where one with top-shelf promise will beget San Diego's decimation of Peyton Manning's self-esteem.
Before you offer Tampa vs. Baltimore as a viable viewing option, know this: Baltimore wins by 17. It has been foretold. Until it hasn't.
In closing, here's a photo of Al Davis using a walker today via the Sun-Sentinel's Omar Kelly (H/T JovanJ) ...