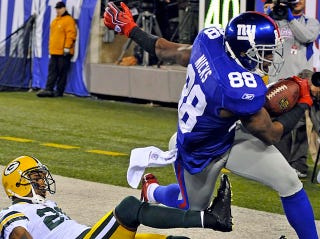 And so marks the beginning of the end of a great weekend of football. Gather below.
New York Giants at Green Bay (FOX): The key to this game, obviously, is Romeo Crennel. His was the only team to shut down the Green Bay juggernaut and the Giants have apparently been studying the game film. "'You can see how they're sitting back a little bit, and then you see how Kansas City was getting after them,' linebacker Mathias Kiwanuka said. 'It's a noticeable difference between that film and the other films that we've watched.'"
What's more:
Crennel and Giants coach Tom Coughlin are longtime friends, dating to their days as Giants assistants on the Super Bowl XXV team. So did Crennel share any tricks of the trade this week? He was mum.

"Coach Coughlin is a very good coach," Crennel said. "He has a very good team, and they've been doing a good job all year putting game plans together for very good offenses. They'll put together a good one this week."
Green Bay wins in a romp.