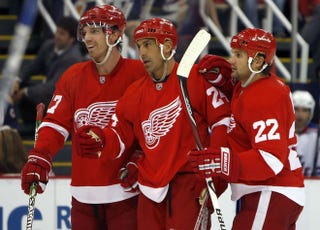 As you know, we make no pretense at being experts in the world of hockey. (Or anything, really.) Because the season is starting, like, this weekend, we've asked Eric McErlain, of Off Wing Opinion, to preview the upcoming season for us. We don't know anyone who knows hockey better than he does, so he's your man. Enjoy.
While plenty of folks in the hockey blogosphere might not always find Tom Benjamin's Canucks Corner to their taste, one thing is for sure — you can never accuse Tom of sloppy thinking. And it's thanks to that commitment to hard analysis that helped uncover one of the absolute truths about the league last season: In the NHL, the West is simply the best.
How much better? Well, let's just say that once the Anaheim Ducks battered their way into the Stanley Cup Finals, they had already endured the toughest stretch in their schedule. Better yet, it's safe to say that at least two other Western Conference clubs — the Detroit Red Wings and the San Jose Sharks — could have made equally quick work of the Eastern Conference Champion Ottawa Senators in the Finals if they had only had the chance.
Over at FanHouse, we've been previewing the entire league since the end of August. Looking at the Western Conference along with me (Pacific) were James Mirtle (Central) and Jes Golbez (Northwest). Teams are listed in my predicted order of finish. To see what the rest of FanHouse has to say, including our picks for the Cup and all the other major hardware, stop by on Friday morning. Along with each of the capsules below, I'll also give you at least one solid suggestion on where you ought to be getting your inside scoop.
As for the East, check back here at Deadspin on Friday for the rest of the skinny.
Central Division: While Chicago, St. Louis and Columbus all come into the season marginally improved, don't expect them to do much more than slow down a Red Wings club that's still the class of the division. With Andy Murray able to enjoy his first full season in St. Louis, the Blues may challenge for a playoff spot, but the real sideshow in the Central is in Nashville. With ownership questions still unresolved and a severely denuded lineup, one wonders whether or not Head Coach Barry Trotz will be able to prevent his team from disintegrating before the home stretch. Come April, there might not be much of a team to move to Vegas, Kansas City, Hamilton or points in between.
Detroit Red Wings: Ho-hum. Another year, another division title. Leave it to the Red Wings to respond to their one major personnel loss (Mathieu Schnieder to Anaheim) by picking up Brian Rafalski, who's a Michigan native to boot. Expect him to enjoy the best season of his career playing on a blue line with Nicklas Lidstrom. Anyone else who left town, in particular Todd Bertuzzi, Kyle Calder and Robert Lang, is simply a matter of addition by subtraction. And while there will always be questions raised about Dominik Hasek, Chris Osgood is more than good enough to plug the gaps as long as "The Dominator" isn't on the shelf for too long. As for the playoffs, that's another story entirely, where nothing but bad luck kept the Wings from advancing to the Finals last season. For the inside scoop, try Abel to Yzerman (part of the Kukla empire), or if that isn't your style, check in with everybody's plucky little sister, Christy Hammond, at Behind the Jersey.
Nashville Predators: While there might be more tragic stories in hockey , there isn't any one sadder than Nashville. From the beginning, General Manager David Poile took the blueprint that he developed in Washington and put it to work building another hard working, defensively-responsible squad. Then, when the time was right, ownership stepped up with the money to import the superstars to take the team over the top (Paul Kariya, Peter Forsberg). The result was one of the best regular season performances in the league over the last two seasons (an eye-catching 216 points), combined with a pair of first round playoff exits to a San Jose team that was simply better. Now the highlight reel goalie — Tomas Vokoun — is gone, along with the superstar imports and a number of character players who kept the squad glued together. If Trotz can make the survivors believe, this team may still be able to make the playoffs. But while they may die hard, I'm afraid they'll still die. Watch the drama unfold at On The Forecheck.
St. Louis Blues: At the start of last season in St. Louis it was easy to laugh. From the drop of the first puck, most of North America couldn't understand what new Team President John Davidson really had in mind going into the season with an aging core of veterans. The results were predictable as former head coach Mike Kitchen helmed a cacophonous mess that was going nowhere. But credit Davidson for stepping in when he did and replacing Kitchen with ex-Kings Head Coach Andy Murray, who responded at one point by leading the team on a 13-2-4 run. Safe to say, there's hope in St. Louis, where the core of a decent blue line will be supplemented by Calder candidate Erik Johnson. Up front, Nashville refugee Paul Kariya ought to add some scoring punch to go along with aging vets Doug Weight and Keith Tkachuk — a pair always wiling to be traded at the deadline as long as they know they'll be back in St. Louis the following season. Share the hope at St. Louis Game Time.
Chicago Blackhawks: Everything that's happened in the offseason pales in comparison with the news today of the death of Blackhawks owner Bill Wirtz of cancer at the age of 77. A stubborn traditionalist in every sense of the word, Wirtz did it his way every time, all the time, something that earned him the ire of plenty of Chicago hockey fans, never more than when he gradually broke up a team in the 1990s that had been built around Chris Chelios, Jeremy Roenick and Ed Belfour. In recent years, as the team missed the playoffs in eight of the last nine seasons and crowds at the United Center continued to dwindle, anger among the true believers — few though they are these days — continued to harden. In light of his death, news earlier this year that he was considering a sale of the team has to be seen in a new light. One thing is for sure, no matter what happens to the team, life is going to change radically after an owner with a tenure of 41 years passes from the scene.
As for this year's club, there's reason to believe that things are going to improve, just not all that much. The high draft picks are beginning to pile up, including the two most recent top picks, Patrick Kane and Jonathan Toews. Free agents Yannic Perrault and Robert Lang will help up front, but not enough to get this club within spitting distance of the playoffs.
Columbus Blue Jackets: With ex-GM Doug McLean gone forever, and his destructive powers now firmly focused on the Tampa Bay Lightning (Hey Doug, the fruit basket is from Francois Beauchemin!), the BJs can begin their long arduous climb to respectability. Yes, things are looking up, and a full season with Head Coach Ken Hitchcock behind the bench will help. But there are some things that even Hitch can't do, and one of those is coaxing a .500 performance out of a roster that's severely overmatched. Otherwise, there are some mistakes from the past that are going to take a few cycles to come out in the wash — like Sergei Federov. The good news: The owner is committed to the rebuilding plan and the fans are an absolute revelation. Let's just say their greeting to the Commissioner on Draft Night 2007 was one for the ages. If/when this team finally makes the playoffs, we're all in for a treat. Until then, grit it out at the End of the Bench.

Northwest Division: While it might not be the toughest division in hockey — that's the Pacific — the arrival of Ryan Smyth in Colorado and Mike Keenan in Calgary may make the Northwest the deepest in the league. If you're looking for offensive fireworks, this is not the place to be, as three of the top goalies in all of hockey — Roberto Luongo, Niklas Backstrom and Miika Kiprusoff — all call it home. Expect the four top teams to qualify for the playoffs, with "lowe"-ly Edmonton settling into a comfortable position in the draft lottery. One last thought: The over/under on Keenan making an example of retro-scapegoat Kristian Huselius is December 20, 2007.
Vancouver Canucks: Life's a lot easier when you know you can count on the best goaltender on the planet to save your bacon. That was a lesson the Vancouver Canucks learned early and often last season as Roberto Luongo settled in just fine after being liberated from his tropical hockey prison in South Florida. Unfortunately, while the Canucks are still the best team that Luongo has ever played behind, they don't have nearly enough punch up front — and that's with Markus Naslund and the Sedin twins on the roster. To get deep into the playoffs, Luongo is going to have to lay off the caffeine and put in regular super-human efforts like he did last spring in the first round against the Dallas Stars. For more, visit Canucks Hockey Blog.
Minnesota Wild: The Minnesota Wild are an object lesson in what life is like in the Western Conference for teams that are merely good and not great. After a fine regular season where they totaled an impressive 104 points, the defensively responsible Wild — a team that boasts one of the candidates for toughest man in the NHL in Derek Boogaard — were simply brutalized in a five game playoff series with the eventual Stanley Cup Champion Ducks. Coming into this season, all the keys to success are still present in Minnesota, including a passel of offensively-talented players who have proven they'll submit to the dictates of Head Coach Jacques Lemaire's defense-first system, as well as the surprising play of mid-career Finnish import goalie Niklas Backstrom. If this were the mid-1990s I'd say that the Wild were perfectly suited for a deep run in the postseason, but now I'm afraid that the one thing they lack — physical play nearly to the point of brutality — will hold them back come April and May. Discuss their chances at Wild Puck Banter.
Calgary Flames: Mike Keenan is nothing if not entertaining, which should make following the Calgary Flames a lot more interesting than last year's edition under the vanilla Jim Playfair. Making it even more interesting is the thought that Keenan has to work for Darryl Sutter, one of the few GMs in the league who can look Keenan in the eye and tell him where to go. As for changes, the blue line has been completely re-shuffled, but when you're playing in front of a goalie like Miika Kiprusoff, worries there tend to fall by the wayside. And while the scoring up front was a little better last season, it's still not good enough to get the job done. When in Calgary always remember to travel the Red Mile with The Battle of Alberta.
Colorado Avalanche: Thanks to a furious finish and an offseason that saw them add free agent winger Ryan Smyth up front, the Avs have to be a favorite to return to the postseason — until you turn to the goaltending. Jose Theodore is simply done, it's just too bad former GM Pierre Lacroix isn't around to see the damage the former Vezina winner is doing to Colorado's salary cap. And while Peter Budaj is mildly better, few teams in the NHL quake in fear when they see him starting in net. So while Colorado might have enough to sneak into the postseason, they don't have nearly enough to make an impression. Feel the hockey fellowship at Jerseys and Hockey Love.
Edmonton Oilers: Just as the New York Jets and their fans have paid a dear karmic price for victory in Super Bowl III, so have fans of the Edmonton Oilers paid for their surprise trip to the 2006 Stanley Cup Finals. Since then, they've seen two of the biggest names in the game (Chris Pronger and Ryan Smyth) shipped out of town as they dropped thorugh the standings like a rock. After the deadline trade of Smyth to Long Island, the team simply fell apart down the stretch, leaving all of the offseason pressure firmly on the back of GM Kevin Lowe. He responded by importing free agent defenseman Sheldon Souray from Montreal. While he might have a cannon for a slap shot, Souray's deficiencies on defense are well known. Lowe later devoted another chunk of cash to luring restricted free agent winger Dustin Penner away from Anaheim with an insane five-year $21.25 million offer sheet. What it all adds up to, I'm at a loss to say. It's easy to get intimidated looking at the "Oilgosphere", one of the most intense online hockey communities around, so don't forget, it's safest to wade in at Lowetide.
Pacific Division: Scratch Los Angeles and Phoenix off of your NHL Center Ice schedule, as the Pacific is a three dog race (to those who are interested, LA will be better, but not so much as to disrupt the balance of power — watching Phoenix may be brutal). Anaheim is a proud — and bare knuckled — defending champ, but they're dealing with a number of key personnel losses and early injuries. Don't expect the team that takes to this ice this weekend for a two-game series with the Kings in London that will open the regular season to look like the squad that hoisted the Cup barely three months ago. San Jose hasn't done much to its lineup, but it's young talent is one year older, and the Ducks are wounded. Dallas made few changes, and is counting on increased production from a number of the usual suspects. They've also added some toughness around the margins (please say a prayer for Todd Fedoruk), but it might not be enough.
San Jose Sharks: Say hello to a team and a head coach that's running out of excuses. Wilson has gotten the Sharks to the 2nd round of the playoffs in all his three full seasons in San Jose, but that won't be enough for him to keep his job this time. Either he gets this team to within shouting distance of the Cup or he's done. With the lineup that the Sharks boast — one that includes former MVP Joe Thornton, Team Captain Patrick Marleau and Goalie Evgani Nabokov down the middle — most other head coaches have to be pretty envious. The rest of the lineup is young, big and fast — with the exception of curious offseason pickup Jeremy Roenick, who Wilson insists will play meaningful minutes. And if it isn't enough come the trade deadline, the Sharks have plenty of cap space for GM Doug Wilson to burn. Few hockey bloggers are as equally adept at the keyboard and behind the camera lens as Jon Swensen at Sharkspage.
Anaheim Ducks: I'm sure Anaheim GM Brian Burke, a man who seems to be getting more credit for last June's Stanley Cup win than Head Coach Randy Carlyle, found a way to enjoy his brief offseason. Getting to spend a day with the Cup must certainly help take the edge off of your day. Then again, seeing your top goal scorer (Teemu Selanne) and a Conn Smythe Trophy winning defenseman (Scott Niedermayer playing the role of Bret Favre) unable to make up their minds about retirement couldn't have been fun. Neither is with the team. Niedermayer has been suspended, while Selanne is without a contract. Then there was the Dustin Penner defection to Edmonton. Both goalie J.S. Giguere and Sami Pahlsson, the best defensive forward in the game last season, are recovering from hernia surgery. And the one critical part you imported to shore up the blue line in case Niedermayer didn't come back, Mathieu Schneider, is out with an injury to start the season. With the loss of that much scoring, I'm expecting more physical play from the Ducks. Did I forget to mention that Todd Bertuzzi has found a home in Anaheim? The drink of choice is Jack and Coke at Battle of California. Some find out the hard way, you don't have to.
Dallas Stars: In a way, the Stars are simply a hockey team in the wrong place at the wrong time. They have one of the most underrated coaches in the game in Dave Tippet, and there were few things that the Stars didn't do well last season outside of putting the puck in the net, and that was mostly attributable to injuries that kept Team Captain Brendan Morrow and ex-Captain Mike Modano on the shelf for extended periods. They've got the goaltending in Marty Turco, they've got the total team concept down and they have one of my favorite agitators in Krys Barch. Unfortunately, they simply don't have the firepower to challenge either San Jose or Anaheim. Expect them to make the playoffs, but it won't be a very long stay. Until then, have some laughs with Daryl Reaugh.
Los Angeles Kings: I'd like to tell you that the Kings will be a much improved team this season, as Head Coach Mark Crawford works to meld an impressive young core (Anze Kopitar, Dustin Brown, Alexander Frolov, Mike Cammalleri, Jack Johnson and Patrick O'Sullivan) with mid-tier free agents (Kyle Calder, Brad Stuart, Michael Handzus, Tom Preissing and Jon Klemm) and some solid veterans (Rob Blake, Derek Armstrong and Lubomir Visnovsky). Unfortunately, it all starts in goal, and I don't believe that Jonathan Bernier, J.S. Aubin or Jason LaBarbera (much as I might want to root for him) present any sort of solution either alone or in concert. One of the best kept secrets in hockey blogging has to be Rich Hammond's work at Inside the Kings.
Phoenix Coyotes: So this is what it was like when Bill Russell coached the Sacremento Kings. After the first two years of the second act of his NHL career, Wayne Gretzky has to be wondering where it all went wrong. Outside of Shane Doan and Ed Jovanovski, there's just not a whole lot of NHL caliber talent here, and while new General Manager Don Maloney already has plans in place to right the ship, the changes aren't going to come in time to help this season. Maybe if Phoenix played in another division the situation wouldn't be so dire. Unfortunately, they have 24 games against San Jose, Anaheim and Dallas and those squads tend to be unforgiving when it comes to standings points. Will Gretzky, who will never be fired, make it through the season — especially if he has to do it without his buddy Rick Tocchet? Read the tea leaves at One Fan's Perspective.