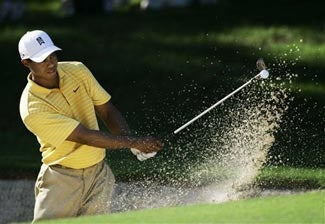 The final "Major" "Championship" kicks off this weekend, the PGA Championship. It's at the Southern Hills Country Club, which is in Tulsa, Oklahoma.
Tiger Woods hasn't won a major all year, and he's kind of due. Is he gonna do it? Because we know nothing about golf — except that it's a waste of so much land; sorry — we, as always, have asked Shane Bacon, purveyor of the Dogs That Chase Cars golf blog, to preview the big tournament for us. The tournament is taking place in the United States, so it's freaking hot.
After the jump, it's Golf In A Box.
———————————
It would be hard to understand how weird 2007 would be if Tiger Woods finished without a major title.
A pit bull owner not buying a Michael Vick dog toy? Jim Carrey making a funny movie for a change? Zach Johnson joining the Church of Scientology?
The Freak has finished out of the top 10 as many times (four) as victories in only 12 starts. The Machine has as many titles this year as Vijay Singh and Phil Mickelson combined in 27 less tournaments. The only thing Mr. Now is missing is what is on the platter this week at Southern Hills Country Club.
The PGA Championship is the Golden Globes of major championship golf, something that everyone would love to win but will never rank up there with an Academy Award. The Green Jacket, a U.S. Open crown, the Claret Jug or the Wannamaker Trophy - this would definitely be the Baltic Avenue of the major championship Monopoly board. Nonetheless, the winner gets to add his name to a list that includes the great Wayne Grady and Rich Beem, and still holds a five-year exemption that will allow even the most far-fetched major winner (no offense Mr. Daly) a chance to rack up a lifetime of checks.
According to Southern Hills history, the winner will be somebody you've heard of. Guys like Tom Lehman, Roy Floyd, Tommy Bolt and Billy Mayfair have stood out in Tulsa, and this week should buck the 2007 trend of first-time major winners. The last time the big boys teed it up at this venue was the 2001 U.S. Open, where Retief Goosen decided four days of golf in extreme humidity just wasn't enough, and wanted another day to put his mark on the golfing world.
If you are looking for a dark horse, maybe go with someone like Ernie Els, who had a nice finish at Carnoustie and could be finally making that comeback that some have been waiting for longer than a successful Cubs season. If you have a brain a centimeter larger than Deion Sanders, you will probably pick Tiger, just because of his dominance last week at the Bridestone and the fact that he might have won a major or two in his career. If you have some chutzpah, you might rest your chips with Hunter Mahan. The kid went to school in Oklahoma and has been feasting as of late on the PGA Tour's dime. If he gets out early, it might be hard to lasso him back to the field because of how well he hits the ball and how cool his semi-mullet makes him look.
Picking the winner might be tough this week, but one thing that should be a formality - Schmickelson will be slamming his truck mighty earlier than expected. If you're into golf, enjoy this weekend because after this it is a long hibernation until Augusta calls.