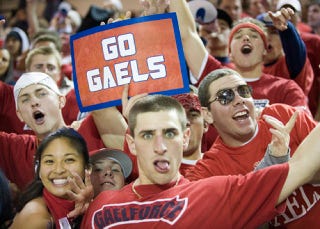 In tonight's premier Top 25 showdown, Utah State travels to Saint Mary's in a game that will settle, once and for all, who's truly the No. 23 team.
Other big questions: Can Auburn do right by those poisoned trees and beat No. 18 Vanderbilt in their memory? Does Boston College have any shot at beating the Tarheels? (Same question, just swap TCU and BYU in, respectively.) Is Texas A&M guard B.J. Holmes a conduit through which the living and dead communicate?
And does any of it really matter, what with Riverdance On Ice airing at 4 p.m.?