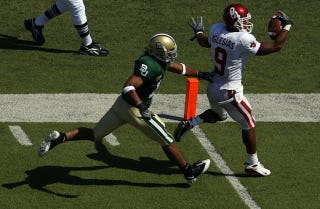 Well, the day started off with a bang (bomb?) that will be hard to top, but let's try. Chat about tonight's games down below.
7:00 p.m.
The ESPN family of networks will have LSU at Ole Miss (ESPN), Vanderbilt at Tennessee (ESPNU) and Western Kentucky at North Texas (ESPN3).
At 7:30 p.m., ESPN2 will show Virginia at Florida State and Colorado at UCLA will be on Versus.
8:00 p.m.
Either USC at Oregon or Oklahoma at Baylor will be on ABC, depending on your location. Kansas State at Texas will be on FX.
10:15 p.m.
ESPN has California at Stanford and ESPNU will broadcast New Mexico State at Brigham Young. ESPN3 will also have Fresno State at Hawaii at 11:00 p.m.