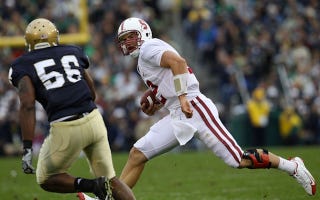 Rivalry week is almost over, but we've still got a couple good ones left, so join us inside and type away down below.
7:00 p.m.
Florida State at Florida is on ESPN2 and Ole Miss at Mississippi State is on ESPNU. Texas Tech at Baylor is also at 7:00 p.m., but does not appear to be on television. Washington State at Washington (7:30 p.m.) and Clemson at South Carolina (7:45 p.m.) are on Versus and ESPN, respectively.
8:00 p.m.
NBC catches a break and Notre Dame at Stanford will be shown on ABC. Oh wait, Heisman hopeful, and consensus number one pick in the 2012 NFL Draft, Andrew Luck is playing in this game? Bummer, NBC!
10:00 pm
UCLA at USC and San Diego State at UNLV both play at 10:00 p.m., but the only viewable late night football will be Tulane at Hawaii on ESPN3 at 11:00 p.m.