The early All-Star balloting numbers are in, and it looks like another year of the usual suspects: Kobe, LeBron, D-Wade, T-Mac...*record scratch*
If the All-Star Game was held today, Tracy McGrady would be a starting guard for the West. He's number two in the voting with 281,545 ballots cast, behind only Kobe but ahead of more deserving players like [Ed Note: Rather than list the more deserving players, here is a link to the list of the 86 Western Conference guards who have actually played this year.]
Yes, McGrady could make his season debut at the All-Star Game. The culprit, as always: China.
You see, the Chinese really like Yao Ming. And because of this, they really like the Rockets. So they're punching their ballots in force for anyone who wears a Rocket jersey.
To wit: Trevor Ariza is sixth in the voting at forward, despite having the second worst FG% in the NBA. Luis Scola is eighth in the voting. And Aaron Brooks is ahead of Brandon Roy, Deron Williams and Chauncey Billups at guard.
G/O Media may get a commission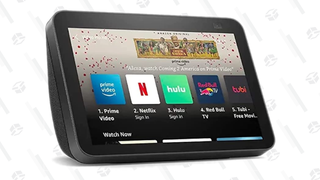 This is normally where I'd leave you with Kent Brockman's line about democracy simply not working, but...you know...China.
But you don't get off so easily, Americans. You can't blame the Chinese for Vince Carter currently holding down a starting slot in the East, and Allen Iverson just a few hundred thousand votes behind him. Unless we're all trying to recreate the 99-00 All Star Game and I just didn't get the memo. If that's the case, I just cast a write-in vote for Allan Houston.
Kobe In West, D-Wade In East Take Lead In All-Star Voting [NBA.com]