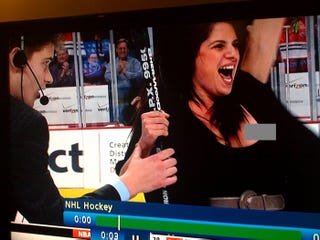 Got an image you'd like to see in here first thing in the morning? Send it to tips@deadspin.com. Subject: Morning crap.
It's the Chicago Blackhawks puck shoot competition during the second intermission of their game with the Sabres on Wednesday. And as you can (almost) see, one participant was so excited that she literally could not contain herself. Who goes upper-torso commando at a hockey game? Blackhawks fans, that's who.
The NHL will do anything to get people to watch.
Here's some video from one of last year's puck shoots. Sadly, no slippage here.