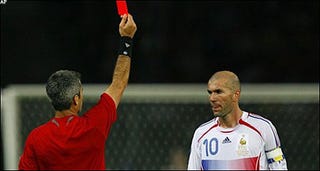 No, you weren't seeing things: That was French soccer star Zinedine Zidane sitting next to you at Stage Door Deli. Rumors are swirling once again that he's close to signing with the Red Bulls of the MLS, which shouldn't surprise anyone. His stock is way up after the World Cup head-butt, at least in the U.S., this being just the type of thing that we absolutely love here: infamy. That should get soccer rolling in the U.S. And you know that someone in the Red Bulls' front office is seeing all manner of merchandising possibilities, such as the t-shirt with the target on the chest, and the Red Bulls' Bald Cap (we can see New York kids butting themselves senseless already).
In fact, the head butt just might take the place of this.
"Nice job there Zidane, you saved the account."
Is Zizou Bullish On The Big Apple? [Fox Sports]