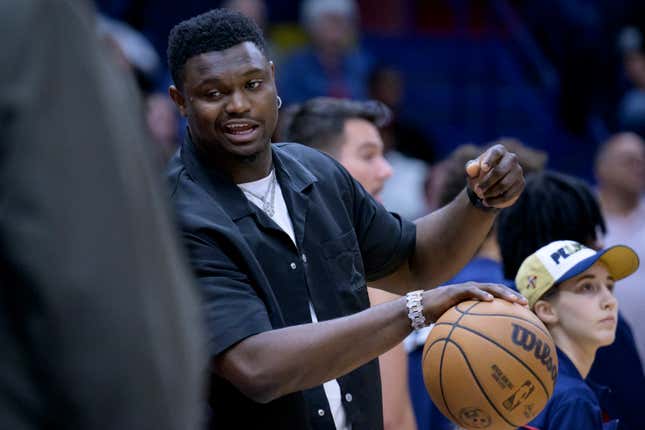 I feel Zion Willamson's pain. At 23 years old, a balanced diet was far from my primary concern. Not solely because of taste, but also affordability — news flash, sports media is not a largely lucrative profession. Back then, for me, the carbs didn't make me pack on the pounds like they do now. Willamson's weight fluctuates as a young person who doubles as one of the greatest athletic specimens in the history of sports.
How running an NFL team is like running a restaurant | Chef Emeril Lagasse
Willamson entered the 2022-23 season in what looked like spectacular shape, and played well enough to be named an all-star starter and have the New Orleans Pelicans in contention for the top seed in the Western Conference. At the turn of the year, he pulled a hamstring and never returned to the floor. In a video of him dunking in pregame workouts last season, his summer fitness appeared to have disintegrated.

He showed up to a taping of Gilbert Arenas' Gil's Arena podcast. The first question that Arenas asked him was, "Is it hard to diet, at your age?"

"There are times when I wasn't… yeah it's hard man," Willamson said. "Like 20, 22, a lot of money, all the money, it feel like all the money in the world. It is hard."
I don't make close to 10 percent of what he does in a year and dieting is hard for me, so I feel his pain. Healthy eating is not an assignment with a due date. Willamson proved last season that he can show up to training camp in warrior condition. He said later in the podcast that staying on course during the offseason is not a problem. However, he is naturally a large man.

When the pulls and strains that come along with the NBA season arise that prevent him from being active, that is an easy time for the weight to return. His preseason 2021-22 photos were unflattering because he was dealing with a foot injury and was not able to work out.

The problem for him is keeping that weight down while he is on the sidelines. A problem that many of his peers don't have to deal with because many basketball players at his age burn calories by breathing. In Dwight Howard's prime, he was eating the sugar equivalent of 24 candy bars per day, and was still built like Hercules.

Willamson is arguably more explosive than a prime Howard, but built more like a defensive tackle as opposed to an edge rusher. It's an unfortunate obstacle that Willamson will have to always manage, but when you're strong enough at 6 foot 6 to score over 70 percent of your points within three feet of the rim and also casually throw down 360 windmills, there has to be a flaw somewhere. No human being is perfect.

So while I attempt to stay away from the Wingstop that just opened within walking distance of my apartment, Willamson has his own struggles. If he is going to maximize his spectacular talent, he has to find a way to keep minor injuries from turning into major ones. For him, that means when he can't play he is going to have to find a way to keep his weight down.