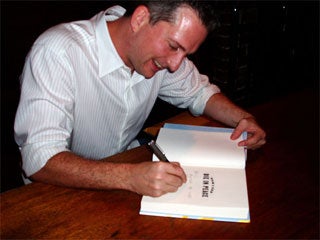 Last night, at the Riviera Cafe in New York City, Our Boy Bill Simmons launched his worldwide tour to promote the release of his first book, Now I Can Die In Peace. And we — Deadspin editor Will Leitch and "photographer" Lockhart Steele — were there, because the bar serves alcohol and had some Arizona Cardinals highlights playing on a corner television. (Gawker special correspondent Noelle Hancock came to pick up some dudes only to find that, in her words, "Sox games are the biggest twat-blockers of all time.")
It was a rollicking evening, to say the least, full of endless lines, weird people dressed in Incredible Hulk outfits and, inevitably, Pop Culture Guru Chuck Klosterman, who showed up at the end of the night to nuzzle and discuss the impotence of blogs. Come with us, after the jump, to the first ever edition of the Deadspin Party Crash.
Whatever your thoughts on Simmons, one thing was clear from Tuesday's night's festivities: On the East Coast, anyway, this book is going to be huge. We arrived at 5:45, 45 minutes before the signing was supposed to start, and the line was already wrapped around the bar (which was entirely unequipped to handle that many people, by the way). We stood in line for nearly an hour, and we were the lucky ones; we estimated nearly 600 people there (and that's probably conservative), and Simmons, to his credit, stayed and signed for nearly three hours. By the end of the night, he was beginning to resemble Don Zimmer.
The story must start with a line, however.
This is early in the night, when the khaki-ed masses still were harboring illusions that they'd end up sitting and having beers and arguing about Dale Sveum with Bill all night. This is the highest number of straight men ever seen in one place in NYC's West Village, by the way.
After waiting for our hour-and-a-half, we approached Bill's table. We stopped to bust this dude who was trying to steal from the tithing tray, though. We're good citizens like that.
Success! We handed our book — stolen — to Bill and introduced ourselves as Deadspin, at which time he leapt out a window and started streaking naked down Varick Street, screaming about the second coming. Best part about that? "The OC" isn't even on until Thursday.
After this photo was taken, Deadspin editor Will Leitch ran out on his wedding, inspiring a nationwide search. "I was running away from myself," says Leitch.
At this point, the line stayed still for about an hour.
Well, crap, now we're going to have to go back to writing about A-Rod being a swinger.