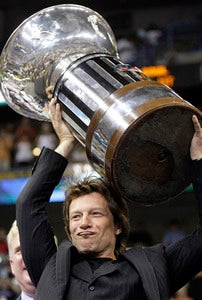 I flipped on the Arena Bowl yesterday for a chance to watch something I haven't seen a long time — a Philadelphia championship. I didn't watch the whole game — completely forgot about it, actually — but I had made a mental note a couple weeks ago when the Philadelphia Soul made it and flipped over to ESPN to hopefully catch the end: A trophy presentation. Confetti cascades. Players hugging. All that. Eventually, it did happen, but not before a painful last minute of indoor football that almost saw the Soul piss away a 17 point lead and the title. If they lose this right now,
this
way, I thought, this becomes a national story focused on Philadelphia's perennial loserdom. They didn't, but for 36 seconds it seemed entirely probable. Jon Bon Jovi, the Soul's owner and unabashed Giants fan, was hustled down to the field when victory seemed inevitable. For the most of the game, there were intermittent shots of his giant teeth (a cocky winner's smile, if there ever was one) as the Soul piled up points, but after the San Jose Sabercats scored quickly thanks to a successful onside kick and cut the lead to three with 17 seconds left (an interminable amount of time in Arena Football thanks to their goofy rule about the clock stopping if there's no forward progress) the millionaire Jersey hairband king had
that look
. It's that wide-eyed look of dread Philadelphia sports fans wear too often, the one right before Mitch Williams winds up and throws the high hanger to Joe Carter. Miraculously, the Soul persevered and Bon Jovi got his pouty-lipped photo-op hoisting a silver punchbowl glued to a waste basket. Granted, on the city's prideful victory scale, this would rank somewhere between a Conshohocken girl getting crowned Miss America and a South Jersey Little League team winning the World Series in Williamsport. Actually, it might be below both of those. But it's something. There will be parade on Thursday, which might not even require Broad Street to be closed or an increased police presence to control an unruly, joyful crowd, but it'll be good practice for the city, like a simulated terrorist attack. Regardless, today, a Philadelphia team is for once, pathetically, a champion. Yay.
Title for Philadelphia as the Soul survive
[Inquirer]