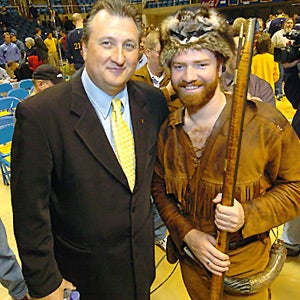 It's almost as if Bob Huggins doesn't have control of his players. Even when they're at Pittsburgh Pirates-Colorado Rockies baseball games. Hey, if you can't get drunk and fight at a baseball game what kind of country do we live in? Joe Mazzula and Cameron Thoroughman face several charges . Cue the AP:
Mazzulla, a 6-foot-2 junior from Johnston, R.I., was charged with aggravated assault, hindering apprehension and underage drinking. Thoroughman, a 6-foot-7 sophomore from Portsmouth, Ohio, was charged with disorderly conduct, resisting arrest and underage drinking. The 20-year-old players began arguing with police when they refused a request for identification, according to a criminal complaint. The officers said the two smelled of alcohol.
Has anything good ever come from refusing to provide identification to police? At least they didn't get tased. Although, to be fair, how much does it suck to be the guys who get asked for ID after they've already been drinking at the baseball game? Yep, two more West Virginia athletes go down outside the city limits Morgantown. Which lends further credence to my hypothesis, formed via Chris Henry and Pacman Jones, that Morgantown is an entirely lawless society. Like Deadwood only minus the warped justice of Swearengen.
Players face charges of underage drinking, resisting arrest
[ESPN]