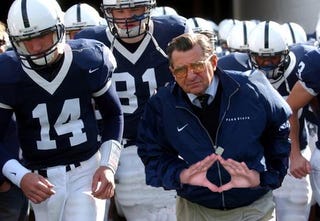 Today's Penn State preview is brought to you by Run Up the Score of the excellent Penn State blog blackshoediaries.
It was only 10 or 20 years ago that you could count on Penn State for three things — classically drab blue and white uniforms, All-American linebackers, and soul-crushing offensive linemen with names ending in "-ski", "-wicz", and "-skiwicz". The uniforms and linebackers have been omnipresent, even throughout what Nittany Lions fans refer to as The Dark Years — that smoking crater of horrific football between 2000 and 2004 best represented by a
numbing 6-4 loss to Iowa
, in which Iowa head coach Kirk Ferentz ordered his team to take a safety late in the fourth quarter, daring Penn State to merely drive for a winning field goal. (That strategy worked flawlessly, by the way.) However, 2007 marked the return of a dominant Penn State offensive line, perhaps the best since PSU's unbeaten 1994 season, even as opposing defenses crowded the line of scrimmage and begged Anthony Morelli to throw the football. That entire offensive line returns this year with a nod to the Lions of yore — sophomore guard Stefen Wisniewski. That unit will be called upon to ease the transition into what Offensive Coordinator/Piñata Jay Paterno calls the "Spread HD" offense, which will allegedly resemble the diverse attack built around Michael Robinson during Penn State's 12-1 Orange Bowl run in 2005. Uncharacteristically, it's the back half of the defense that has the potential to derail this year's team. Sean Lee — team captain, certain Butkus Award finalist, and certified crazy-eyed killah — blew out his ACL during spring practice. In his absence, a mix of unproven and presently undistinguished players will have to brought along quickly in order to provide support for a secondary which lost Justin King to the NFL and will shuffle Tony Davis back to cornerback after a year at safety.
Rivalry?
What is this rivalry you speak of? For better or worse, Pitt has been banished from the schedule. Michigan and Ohio State have each other. None of this is likely to change anytime soon. That leaves Penn State fans with no other option than to formally embrace the rivalry imposed on us by the Big Ten when we joined the conference in 1993 — the season-ending game against Michigan State, another program seeking something other than a "little brother" rivalry. So let's drop the needy
Skunkbear
and
Buckstache
envy and declare war — it is motherfucking on, Sparty. We hereby question the sexual orientation of your players and the dietary excesses of your women (okay,
with two notable exceptions
). Thanks for designing
this giant piece of shit
. Oh, and please just finish the job by stapling a drool cup onto the lovechild of Purdue Pete and Testudo that you call a mascot. If this year's contest is truly Joe Paterno's last game at Beaver Stadium, here's hoping the old man hangs a hundred on you as a parting gift.