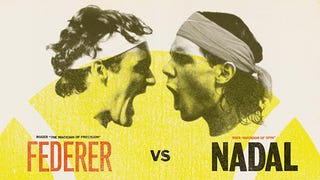 Dylan Stableford writes occasionally about tennis for Deadspin. It's called "Droppin' Deuce With Dylan Stableford."
It's that time of year again. A time when swaths of Serbians, blistering backhands, awkward celebrity interviews and nimble ball boys invade Queens. A time when tennis—tennis!—takes New Yorkers' attention away from the Mets, Yankees, Bret Favre, blogging and the Hamptons for two weeks. Here's what to expect during this year's Flushing fortnight.
THE MEN
Federer-Nadal
A Federer-Nadal final will not happen. Tennis thinks it has its new rivalry. (When Nike hires Don King to trumpet Federer-Nadal like Tyson-Holyfield as "Grapple in the Apple," you know the sport is banking on a sustained battle—maybe without the ear-biting.) The problem is, Rafa—as he's known for some reason—just isn't that good on hardcourts. He complains about them. He wraps his knees like Tom Berenger in Major League. And for all of his supposed fitness, he tires at the end of the summer like a Dick Enberg montage. But Nadal's historic late season malaise isn't the only problem with anointing the next Agassi-Sampras. For the first time in five years, Federer has looked … human. He lost in the Australian Open semis, revealed he had contracted mono, got manhandled by Nadal at the French, and, of course, lost the seven-hour, five-set epic with Nadal in the Wimbledon final which, if it weren't for a rain delay, wouldn't have been so epic. At the Olympics, Federer lost in straight sets to perennial disappointment James Blake before Blake was ousted in the semis. (More on that in a minute.) Not to mention Federer's lost twice—twice!—in opening rounds this year. Still, it's hard to pick against a Nadal-Federer final in any major tournament. Especially when the rest of the men's field has its set of own problems.
The hot girlfriend box
Most male tennis players have them, holed up in their boxes, with USA cameras fixed on their every reaction. And two of the top seeds on the men's side—Serbian jokester Novak Djokovic and Andy "Sleeve-Picking" Roddick—have two of the hottest:
Djokovic and Paraguayan Olympic javelin thrower Leryn Franco
(sample tennis blog headline: "Djokovic Wins the Girlfriend Olympics"); Roddick and Sports Illustrated swimsuit model Brooklyn Decker. Why does this matter? It's about motivation. And you have to question whether or not dudes with girlfriends this hot are motivated enough to win.
Blake
James Blake will shock everyone and win. There's no reason to expect this. None. He's had an uneven year—and that's being charitable. His biggest win came against Federer in Beijing, and Blake promptly went out the next day and lost to someone named Fernando Gonzalez 4-6, 7-5, 11-9—
complaining after the match that Gonzalez didn't call a ball out on himself
. And at the Open, he's on Nadal's side of the draw. Sleepers. Juan Martin Del Potro and Fabrice Santoro. Del Porto's Argentinean, he's 19 and he's won four straight tournaments, 19 matches in a row. Granted, he hasn't faced a top five player in that span, but who cares? He's got two first names and a "del" thrown in there. Santoro, the pesky French "Magician," is like playing against a human backboard. Roddick gets him in the first round.
The Women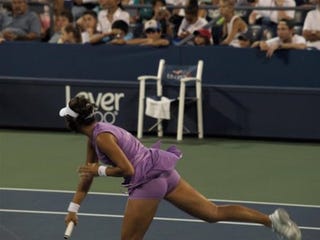 Sorry, fellas. There's no chance of
Maria Sharapova and Ana Ivanovic
all making out and rolling around on stadium court again this year. That's because Sharapova is out with a shoulder injury that her father Yuri no doubt blames on the lack of bananas in her diet. That leaves Ivanovic, the world's shakiest number one (she won the French but failed to get out of the third round at Wimbeldon). In an odd but refreshing bit of seeding, the Williams sister can't meet in a final this year. They'll have to settle for an unwatchable quarterfinal.
Sleepers
I found one! Five-foot-three Dominika Cibulkova, who ESPN calls "a tiny Slovak with a big heart," has registered upsets over Venus Williams, Jelena Jankovic and Elena Dementieva this year. And China's Li Na, who can claim the shortest name on the WTA Tour, beat Venus in Beijing. Note to Deadspin tennis fans: I'll be out at the U.S. Open all week.
Drop me a line if
you'd like to share a $12 beer or ogle Serbian women on the practice courts!