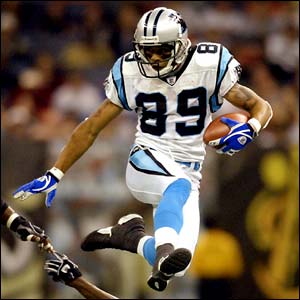 We're less than two weeks away from the start of the NFL season, so it's time to start the impassioned season previews from various writers, bloggers, diehard fans, cooks, TV personalities, and numerous other walks of life whom consider football the only sport worth watching.
Today: The Carolina Panthers. Your authors are The Sports Brethren
The
SportsBrethren
are Smokey and Mickey Cloud. They were bred in captivity in Charlotte, NC then released into the wild, where they now stalk the savannahs (savannahi?) of Manhattan and Hollywood. iChat keeps them close, football keeps them closer...
Mickey:
Week 17, last season. The Carolina Panthers were 6-9, playing the playoff-bound Tampa Bay Bucs on the road, and I desperately wanted—nay—needed a victory. You may ask yourself, 'Why go through the trouble of getting emotional enough to care about your team eeking out a meaningless win and limping to the finish line at 7-9?' Because in the John Fox/Marty Hurney Era, 7-9 means the Carolina Panthers are kicking some serious ass, come next year. Heading into their 14th season of existence, the Carolina Panthers have finished 7-9 six times — and thrice under the current regime (including last season's campaign). The South's always prided itself on consistent mediocrity. What happened the first two times under Fox/Hurney? Two 11-5 seasons: a Super Bowl run and a NFC Conference Championship game appearance. Boom, bitches. Welcome to the 2008 NFL Season, the year the Carolina Panthers unleash holy terror on the NFL. I'd bet the better half of a bucket of Bojangles the Carolina Panthers are cooking up an awesome, smash-mouth, down-and-dirty 2008 campaign. Let's take a look at the key cooks in the kitchen:
The Fiery Cajun Jake Delhomme:
The passionate Panthers leader. The undrafted success story. The original Cardiac Cat.
The Defender of the Fresh Biscuit.
Last year showed that the Panthers without Jake can't make it to that next level. He's 32 now, claiming his arm and elbow have never felt better. He'll still take chances, throw the ball high and off his back foot, but everyone knows he's in charge, that he believes, and that he's the guy we want out there when the game's on the line.
The revamped offensive line:
Fox and Hurney are banking on the "Bigger is Better" theory here. All 5 positions have new starters — and with the exception of awesome young center Ryan Kalil — all are massive, 330+ lb. men. What we in the South like to call "biiig boayhs"— or "Kiges" — and I'm down with that.
RBs DeAngelo Williams and Jonathan Stewart:
These two aren't your typical "Thunder/Lightning" combination, because to define them like that would pigeonhole them. In camp, Fox has had Stewart returning kick-offs and Williams cutting back up the middle. You need a dynamic duo of workhorses in this NFL — and with the sheer size and agility of Stewart plus the explosiveness and awesome mustache of Williams, the Panthers running game should be sufficiently badass.
Steve Smith and Co.
: Last year that "and Co." was Drew Carter and Keary Colbert & we're not entirely sure Stephen Colbert would've done worse. This year we've got Muhsin Muhammad back, added red-zone specialist DJ Hackett, and turned Dwayne Jarrett over to Moose to straighten him out. This squad has the potential to be saddled with some terrible nickname like "The Flyboys".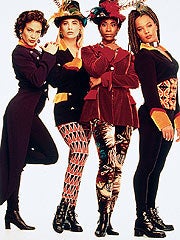 Which brings us to Steve Smith, the incredibly talented, yet mercurial Panthers star. The thing that I love about Steve is his absolute
tenacity
. He's pound-for-pound one of the hardest working, productive players in the entire game. Like his quarterback, he lets his emotions get to him. And that's what happened in the Spartanburg heat in early August when he introduced his fists to Ken Lucas's face. Tthe team handled the situation well. Fox put the clamps down immediately by taking swift action. The leaders of the team spoke honestly and openly with the media, and Lucas forgave Smith as quickly as possible. It hurts not to have Smitty available against San Diego and Chicago games, but this team will persevere. We're the tenacious, beastly, badass Carolina Panthers. And we're coming off a 7-9 campaign. The NFL has been put on notice.
Smokey:
Let's do this, I've got
musical genres to save
:
Front Line
Peppers is back to the same position he played in college, he had a terrible year last season, and he's primed to go apeshit. Add Maake Kemoeatu, Davis and whoever you want and people will sleep on them. Ask the
Redskins.
Linebackers
Jon Beason is Sam Mills and Kevin Greene all rolled into one. Beason accomplished everything a fan could want from a rookie and anchors the D now. Get used to him showing up on weekly Top Ten Plays lists, and/or
orgy raps.
Na'il Diggs's name alone puts fear in the hearts of men, and the word out of camp is that Thomas Davis is ready to have a primal year.
Defensive Backs
These guys got pounded repeatedly
(insert lesbian cheerleader joke here)
and were a pretty weak link last year, so hopefully some of the younger guys will have matured and Ken Lucas regains depth perception. Chris Gamble and Richard Marshall are adept at the corners and Chris Harris will provide no less than three moments that cause one to throw one's hands in the air, as if one was a true player. There's much room for improvement on the defensive side of the ball and if the Panthers are gonna make any sort of noise, it's the D that's gonna have the biggest hill to climb. No one really knows what happened to Peppers last year, but if he can return to form and BeasTon continues on his path to greatness the Cats could be a turnover makin' machine. As for the season? After the yard-stomping we served to Washington this weekend, I couldn't agree with Jake Delhomme's assessment more: "I'm just glad we don't have to play the Panthers this year." That's downright
Gumpian
in its logic. The receiving corps looks strong, the porous O-line has been stuffed, and there's no sight of David Carr or Vinny Testaverde anywhere. All signs point to success!