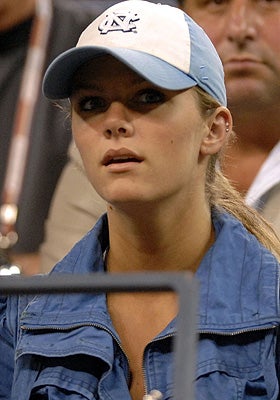 Dylan Stableford writes occasionally about tennis for Deadspin. It's called "Droppin' Deuce With Dylan Stableford." This week, he's at the U.S. Open, watching tennis and taking creepy pictures of Brooklyn Decker from afar.
Heading into the first weekend of the Flushing fortnight, we've lost one sultry Serb, but the bulk of the field—including a host of Americans—remains, thankfully for CBS, intact. Ana Ivanovic, the world's shakiest number one, was spanked by Julie Coin, a 188th ranked French qualifier, in three sets, leaving Elena Dementieva to carry the body butter on the women's side of the draw.Roger Federer and Rafael Nadal have looked solid and semi-solid on the hardcourts of Queens, respectively, while James Blake needed five sets to beat Pokey Reese-doppelganger Donald Young in round one and a Belgian with a back injury, who retired, in round two. Next up, Blake plays his bearded compatriot Mardy Fish in a match that is sure to be filled with awkward anecdotes from Ted Robinson on their torrid bromance. But Novak Djovokic and Andy Roddick (whose first round opponent, the pesky Fabrice Santoro, melted down in a bizarre tantrum after nearly taking one of
Roddick's 147 m.p.h. fastballs
on the chin) are playing well enough to ensure proper media attention will be paid to their respectively hot girlfriends.