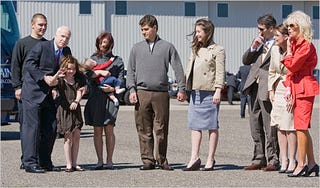 Tonight, as well, Sarah Palin
steps up to the microphone
and attempts to recreate all of that feel-good momentum she provided John McCain for, oh, a few hours on Friday before America's Google-army did their own "vetting." She's going to show her feisty side tonight and let people know that she's tough enough for the job by clubbing a baby seal and eating its innards just like the Inuit people who live in ice caves in her home state. Or something. Also making his first public appearance this evening will be "high school hockey stud"
Levi Johnston
who flew in to support Bristol Palin, his knocked-up presumptive bride-to-be, and floor-check any reporters who start shouting out inappropriate questions. In even more riveting potential brawl news, the Phillies once again face the Washington Nationals and odds are good that somebody on the Phillies
just might get plunked
. Not on the hand, though, please. ****** Tonight, talk to your friends online about sports. Thank you for your continued support of Deadspin.