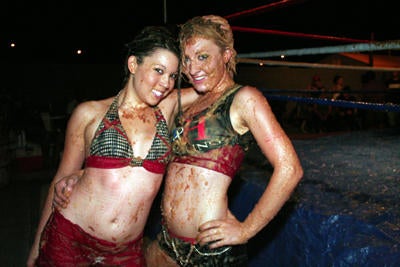 High school kids plus alcohol plus guns plus female applesauce wrestling, all staged in someone's backyard? I see no way this fails to be awesome, and more to the point, can I get directions? Ah, but sadly, my window of opportunity has been slammed shut by the Phoenix police department, who raided the operation on Tuesday and arrested the organizers. And once again our constitutional right to enjoy mashed fruit-related sporting events has been violently trampled.
Investigators shut down a backyard wrestling operation in northeast Phoenix after neighbors' noise complaints prompted a criminal probe into suspected illegal weapons and underage drinking. Heaven and Hell Wrestling, known for its costumed male characters and female applesauce battles, operated its ringside attractions at a home near Greenway Parkway and 27th Street until the Aug. 23 raid. Phoenix police partnered with the Arizona Department of Liquor Licenses and Control on the raid. Guns were confiscated in addition to alcohol and $362 that promoters said was donated to pay for the show, police said. Officers from the Phoenix Desert Horizon Precinct said only a handful of those with weapons were licensed to carry them.
Actually, the backyard wrestling phenomenon is fairly widespread, and Phoenix's
Heaven and Hell event was one of the largest
such events in the nation. Girls wrestling in applesauce served as a side attraction to the main bouts, which featured amateurs with character nicknames such as Mr. X., the Saint and Sgt. Stomp. Local rappers provided pre-fight entertainment and hundreds of spectators would routinely attend. Backyard wrestling reached a peak in the 1990s, and even spawned a movie,
Backyard Dogs
, released in 2000. But in Phoenix, it is no more. Goodnight, sweet Applesauce grapplers. Tonight I open a can of Del Monte and salute you.
Wrestling Shows In NE Phoenix Home Raided
[Arizona Republic]
Heaven And Hell Backyard Wrestling
[Phoenix New Times]
Phoenix Police Do Not Enjoy Female Applesauce Wrestling
[Rumors and Rants]