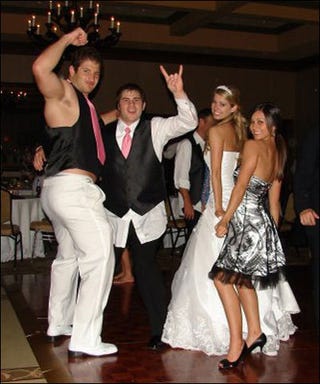 I'm not big on saving too many text messages, but the one I received at 9:02 p.m. last evening while sitting in a Chili's in Hermosa Beach will probably be archived for eternity
:"Hey, it's Tanner Cooley. I need to talk to you about my brother's cock picture on the site. Call me."
Yesterday when KOGOD posted about Redskins' tight end Chris Cooley's
unfortunate shlong-reveal
it wasn't expected to elicit as much of a reaction as it did. Chris Cooley, who's very open on his
personal blog
and whom maintains a very high profile in sports blog circles, may have (we thought) posted his flaccid member and hairy peach basket on purpose. We now know it wasn't intentional. Tanner, Chris's younger brother and surrogate for all of Chris' off-field activities was "very stressed" after his big brother's penis popped up on his personal blog yesterday morning. We did show the full picture on our site for a while, but the decision was made to use
Playing The Field's
Redskin photoshop because, well, we afforded the same discretion to
Santonio Holmes' anaconda
when it popped up on some dating site. And, honestly, does it really do us any good to show unencumbered athlete wang on the site? (Don't answer that.) It happened, it's hilarious, and if you do want to see Cooley's sleeping turtle PTF has watermarked it
for posterity
. Tanner is now in prime spin mode, making the rounds, doing his best to explain why on earth his brother
chose to blog naked in the first place
. (Why? Because apparently Chris was "getting ready for the game.") And, hey, the Redskins won and he snared five catches. Maybe it should be a pre-game ritual for the rest of the season.
How Chris Cooley's Privates Hit The Internet
[Sports Bog]