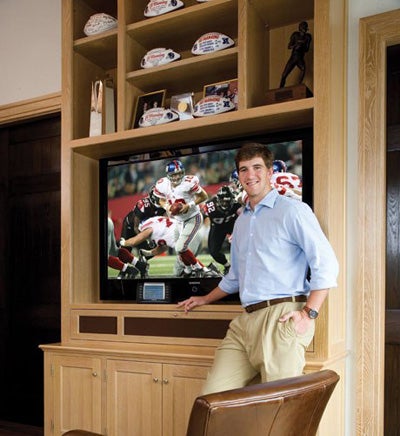 Just say the words "New Jersey condo" and the thought immediately comes to mind; nothing was available in Manhattan? Hey, Eli Manning is quite happy with his new crib, and that's because he barely has to raise a finger when he's there; it's practically all automated. Here we see him in his den where he watches game film on a special system provided by the Giants that includes, so I'm told, a joystick.
Total home control, or automation, was Eli's overwhelming priority when the Mannings recently gutted and renovated their 3,000-square-foot Hoboken, NJ, condo, with spectacular views of Manhattan.
Among the features
in the Hoboken condo
: Hidden speakers, one-touch control of audio, video, motorized shades and lights, steam-resistant bathroom speakers, hidden bar, automated kitchen. I couldn't help but notice however that, surprisingly, there is no
orgasmatron
.
Inside Eli Manning's Automated Condo
[Electronic House]