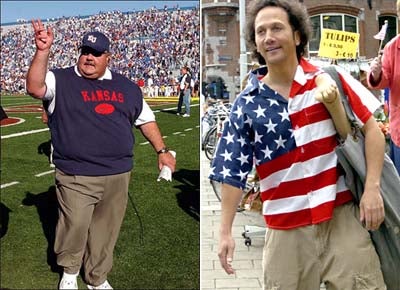 We turn now to the University of Kansas, where the struggle between Mark Mangino and Rob Schneider for the very soul of the Jayhawk football program has reached a tipping point. Kansas students have just received a mass email from student leaders which features a video of Mangino himself asking — nay, demanding — that an obscene chant be discontinued at this Saturday's game against Colorado. (Email shown following the jump). ESPN2 is broadcasting the game, after all, so we can't have nasty shenanigans. I talked with University Daily Kansan managing editor Matt Erickson and sports editor Rustin Dodd to get the full poop. At the heart of the matter is a kickoff chant — fans in the student section have been using it for a couple of seasons now — where the cry of "Knock their fucking heads off!" goes up as soon as the receiving team catches the ball (video below, NSFW). The chant is yelled by Rob Schneider's character in the Adam Sandler movie The Waterboy . No one paid it much mind before now, but with the ESPN cameras coming to town, Erickson organized a student committee to clean up the language in the stands . "Most students just object to the obscene nature of it," said Dodd. "Its trashy and unoriginal. But I think that the real objection to it is that, come on, it's a Rob Schneider quote. We can do a little better than that, can't we? Rob Schneider, of all people?" "That's my main objection, actually," Erickson said. "We really don't want to be associated with the guy who did two Deuce Bigalow movies." Mangino's email:
From: owner-STUDENT01-L@listproc.cc.ku.edu on behalf of Coach Mark Mangino Sent: Thu 10/9/2008 12:37 PM To: student01-l - All KU Students Subject: A special message from Coach Mangino Dear Jayhawk football fans: Please take a moment to view my video at the link below: http://www.ur.ku.edu/mangino_video.… See you Saturday. Go Jayhawks! Coach Mark Mangino
I had trouble getting the video to play; hopefully you'll have better luck. Now, here's the chant in question: The Daily Kansan will also organize a student vote to come up with a new slogan, and
is asking for suggestions on its web site now
. But will the paper and/or the student government hold any sway with the students, who, one's assuming, will have downed an adult beverage or two come Saturday's kickoff? "I think it'll work out," Erickson said. "Coach Mangino has a lot of influence with the student body, so I think they're going to listen to what he has to say."
Kansas Officials And Students Look To Quash Obscene Chant
[Kansas City Star]
Student-Led Initiative Tackles Kickoff Chant
[University Daily Kansan]