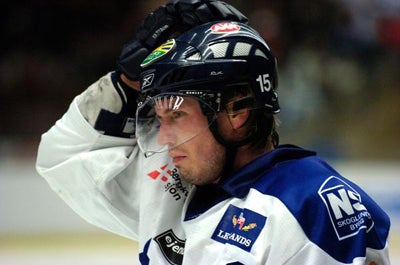 Yesterday we told you about The Night of a Thousand Dildos, in which Swedish hockey fans showered the ice with plastic sex devices at a second-tier, Pro Hockey League match between Leksand and AIK in Stockholm. The fusillade was unleashed in honor of former AIK and current Leksand player Jan Huokko, who was involved in a sex scandal a few weeks back. Initial reports said that Huokko's cell phone was stolen, and a recording of himself and his girlfriend having sex that was on the phone was distributed over the Internet. But why then, if it was a run-of-the-mill sex romp with his girlfriend, were the fans making such a big deal out of it? This IS Sweden after all; they have sex there while waiting for traffic lights, right? The answer is grosser than you think. The truth is that Huokko's "girlfriend" wasn't even involved. The video featured only Huokko, pleasuring, well, himself. With a dildo. And doing something else which you sometimes see in the primate section at the zoo but that's all I'm going to say. How do I know these things? Well because it's pretty much common knowledge on the Swedish hockey message board scene by now. Still photos of the "event" are everywhere. Here are some of them, kiind of blurry but still I caution you, do not click on this link if you are at work, or if you value your eyes. It's just a wrong thing to have this on your cell phone in any culture or time zone. You've been warned. Here's a crude translation of the accompanying article from the original Swedish, as fed through an online translation program. I actually found it quite funny.
A question in the title have been raised at several forums this week. The sex have as many anomalies as there are color combinations are quite obvious. But when abandon a sex act to sick permission? Are some animals eat their own faeces at the moment, but that it would be accepted as part of sex act is difficult to understand. Then concerns itself in the outer edges of even the most strange. The debate now in force a certain 'elite star' in ishockeyn which has been updated recently Having lost sexfilmer. In a new film which allegedly turned up the same 'hockey star' lie and masturbate, and eat his own excrement. If it is true or not can not determine at the photos now appeared, then they are a bit blurred. The scenario around match but with today's technology where photos and videos are easy to manipulate may simply leave it all to the imagination.
Yes, who among us has not explored the outer edges of even the most strange? Sean Salisbury nods knowingly.
Äta Bajs — En Sexualitet?
[Blackwater]