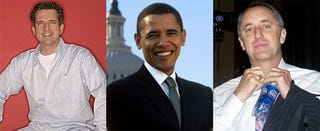 Remember last spring when America's Sports Fella, Bill Simmons, staged a passive-aggressive mutiny on his employer over "
promises not kept
" stemming from
when Sen. Barack Obama was dropped from his podcast
? Maybe you do. So, those of you who do remember that were probably thinking to yourselves, "Hey, Rick Reilly's got a
mag article this month featuring Barack Obama
— Simmmons MUST BE PISSSSSSED." Mr. Simmons isn't able to comment about this latest Obama column for multiple reasons (he'd "love to", however) but it's safe to say he's simmering a bit from this latest perceived slight. It's a little more complicated than that, though.What we do know is that Barack's campaign team approached ESPN very early on. The reason for Simmons wasn't allowed to have Barack on his show was due to ESPN's insistence that they do not participate in candidate interviews until the primaries end. It was a decision that seemed somewhat lunk-headed at the time, as noted in the original
NY Daily News story
from an ESPN source, "They landed the hottest politician in 50 years, and they couldn't even see the interview through? This is insanity." Simmons never got the interview, even though seemingly every one else in the ESPN family has had
some
opportunity
to interview Obama. According to one ESPN insider, Barack was even scheduled to appear on one of those ESPN fishing shows at some point. But there are still no plans for Simmons to interview Barack — for the mag, for his Sports Guy column, or for his podcast. They're not even going to let him play Madden with him on E:60. ESPN claims it's not purposely overstepping Simmons in this instance and that the Reilly piece was one that had been in the hopper for a while and there was no "rank pulling" in Reilly getting that story over Simmmons. This is where it gets tricky because now, it appears as though Simmons does have an opportunity to interview Obama — just like everyone else, even the Big Game anglers — but most likely does not want to this late in the game. Think about it — if you scored the Barack interview early, were passed over, then had to essentially wait in line, would you still want it? Maybe, for the fact that, hey, if you get a chance to interview a potential Presidential nominee, regardless of how many others have done so before you, you do it. So it looks like this is more Simmons not wanting anyone's sloppy seconds at this point than ESPN shafting him outright.
Why Does Rick Reilly Get Barack Obama While Bill Simmons Gets Matthew Berry?
[The Arena]