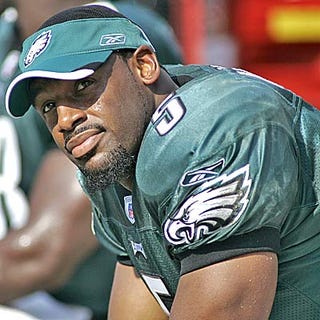 OK it's true, Donovan McNabb had no idea that there was such a thing as a tie in the NFL (see video below). But let's not pick on him; it seems that there were several members of the Eagles and Bengals who were unaware of the rule, as unbelievable as that might sound. In what will go down in my household as a tragic waste of some very nice avocado dip, the teams stumbled to a 13-all deadlock on Sunday, the first time since 2002 that NFL teams will use two dashes when listing their records. Ha. Just like soccer. This was all very perplexing to Mr. McNabb. The most amusing part? McNabb
still isn't clear on the rules
.
"I guess we're aware of that now," said McNabb, who was 28-of-58 for 339 yards. "In college, there are multiple overtimes, and in high school and Pop Warner. I never knew in the professional ranks it would end that way. I hate to see what would happen in the Super Bowl and the playoffs."
Yes Donovan, if after one overtime no one pulls ahead, the Super Bowl would end in a tie. Anyway, the whole thing has the natives restless. Wouldn't it be ironic if a tie was what finally
ushered in the Kevin Kolb era
in Philadelphia?
Donovan McNabb Doesn't Know A NFL Game Can End In A Tie? WTF
[BlackSportsOnline]
McNabb's Reign Is Likely Over
[Philly.com]