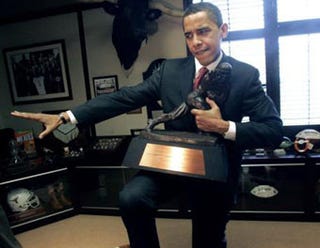 The most interesting thing about this weekend was Barack Obama continuing his jeremiad against the BCS. At first you thought his Monday Night Football interview with Berman was probably just a flippant aside. But now he's carried the anti-BCS flame into office and laid out an 8-team playoff plan. Already the commissioner of the BCS. John Swofford, has stepped out of his dark cave, waved his short arms, put on his Rose Bowl hat and
dismissed the possibility
. But even still, should we give Obama more credit on this? Could bringing about an end to the BCS end the Republican stranglehold on the deep South in 2012? Is it time for us to acknowledge the incredible boldness of Obama's new southern strategy? Already Obama put some dents in the Republican South by winning North Carolina, Virginia, and Florida. Southern states like Kentucky, Tennessee, Georgia, Arkansas, and Louisiana went for Bill Clinton and have demonstrated that they will vote for southern Democrats. Neither Obama nor his Vice President is Southern, but, and this is key, they do hate the BCS. An opinion that is shared, conservatively, by 99.9% of all Southerners. (The only thing we're more in favor of down here is pre-marital abstinence for everyone but yourself.) Keep attacking the BCS and pretty soon those favorability ratings are going to climb in Tennessee and Georgia and Alabama. Not to mention Mississippi and Louisiana. Even Texas and Oklahoma. Anyway, something to think about when there isn't much to think about after this week's status quo round of games. Obama is already crazy like a fox. If he brings down the BCS, no Republican on earth is beating him in 2012.
1. Florida beat Spurrier and South Carolina 56-6.
This is the worst loss of Steve Spurrier's coaching career. Prior to this game South Carolina's defense was number 3 in the nation and the most points they'd given up all season was 24. Remember when Tim Tebow cried and said no one was ever going to work harder after the Ole Miss loss? And you and all your friends made fun of him for crying? Yeah, he was right. And it pains me to say this but no one is beating Florida for the reason of the season. And it's possible no game will be close.
2. The long march towards the ACC Championship remains steeped in confusion.
Miami now holds the Coastal Division lead at 4-2 but has two road games (at Georgia Tech and at N.C. State remaining). If Tech wins then we're all set for our four-way 5-3 tie. Meanwhile, with their win over North Carolina, Maryland — Maryland! — has surged into the lead of the Atlantic Division. But I almost feel like even writing about the ACC race is steeped in futility.
3. After their Friday night win over Louisville all Cincinnati has to do to win the Big East is beat Pitt next week and then close out with a road win over Syracuse.
But if Pitt wins then the Big East would come down to the West Virginia-Pitt game on the final week of the season. Can you imagine the television ratings that a Cincinnati-Utah BCS game would get? The Fox network might assassinate Brian Kelly. Thank god we've got the BCS to put together four games that no one cares about.
4. Remember a couple of weeks ago when Tulsa was undefeated and in the top 20.
Then they lost to Arkansas? Yeah, Houston just dropped 70 on them on Saturday. Including 63 in the first three quarters. Also, don't look now but Rice is now contending to win their division in Conference USA. The nerds are inheriting the football turf.
5. Oregon State continued their run towards the Rose Bowl with a win over Cal.
Now they have a game at Arizona and close out at home against Oregon. Win both and they're in for the first time since 1965.
6. Vandy is bowl eligible for the first time since 1982 thanks to their win over Kentucky.
(Talk about a bad weekend in the Bluegrass...the Wildcat basketball team lost to Stonewall Jackson's VMI.) This ended the longest bowl drought from a big 6 conference school. Baylor, without a bowl since 1994, the football made of feces is now in your hands. Vandy's D.J. Moore is the best player you've never heard of. He scored two touchdowns at receiver and intercepted two passes. You're going to want your team to draft him when he comes out early this fall. Now the 'Dores have opened as a 3.5 point favorite over Tennessee. Meaning the end of the world is truly nigh.
7. Alabama, Texas, Penn State, and USC all held serve.
Meaning nothing changed in the BCS rankings. Oh, and Utah is 11-0 and Boise State is now 10-0. But no one's really paying attention to either team. For now there is one game and one game only, Texas Tech at Oklahoma. Let the planning begin. Personally, I'm watching Texas Tech-Oklahoma without any pants. Which is completely normal.