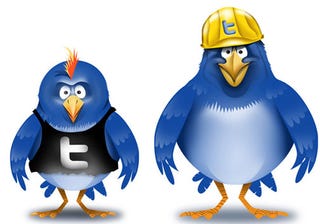 I started my Twitter account while sitting in the Twitter offices in San Francisco, interviewing Twitter head honchos Evan Williams and Biz Stone for this big feature story. I didn't know what Twitter was, though people thought I did.
I was assigned the story by the New York brass because I had considerable experience with upstart dot-coms, but I was outside of the loop on this one; Twitter was scary to me, someone who, as you might have noticed, prefers to write long, rather than in 140 character increments. I started my Twitter account because I thought it might be a fun gimmick for the story, a reporter updates readers on interview while it's going on type of thing. It didn't work out that way — thankfully, considering that's a really hacky way to write a story — but I ended up being hooked. But I'm not hooked on Tweeting. I'm hooked on reading Tweets. That has to be one of the more effeminate sentence combinations I've ever written. And I've written many.
As you know if you follow me on Twitter, I'm not the world's most entertaining Tweeter. Mostly, it's just links to stories I've written, banal updates on parental visits and conversations with Cardinals beat reporters. As a writer, I find Twitter useful mostly as an aggregate. But as a reader, it has become my morning newspaper. When I wake up in the morning, I log onto Twitter to find out what's happening in the world. Which is idiotic and utterly true.
To me, Twitter is the world's greatest RSS feed, allowing me to gather information from friends, colleagues, reporters, comedians and anyone else who regularly updates with information I care about. Movies? Check! TV reviews? Check! and Check! Hilarious stumbling and backtracking? Check! Smart media criticism? Check! and Check! Genius baseball wit? Check! Dry fake outrage? Check! Mattoon news? Check! I make my own newspaper every day. And I can unsubscribe to any section of the paper I want to, at any time.