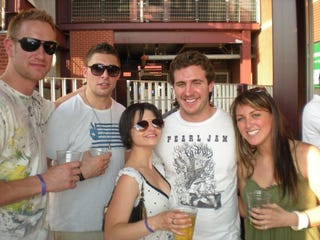 Okay, that's not exactly what he said. But Flyers' GM Paul Holmgren does think his young team's nightlife activities may have led to some "fatigue" issues heading into the playoffs.
Holmgren spoke to reporter Wayne Fish of the Bucks County Courier Times (We are. CR.) about where the Flyers need to improve next year and he puts discipline on and off the ice high on that to-do list.
That's a natural maturation process that a lot of our younger players are still going through. We've addressed that. So am I concerned about it? We'll see how it goes this year. All our players have been talked to about it. Is it an issue? The fact that we've talked about it, I guess it is an issue."
But if it's an issue of wins and losses as opposed to the usual please-don't-have-a-photo-of-you-covered-in-magic-marker-penises-pop-up-online, Flyers blogger RonnyBrook did some number-crunching to track the team's record on Friday, Saturday, and Sundays of last year. Winning percentage on "hangover" days? .568. Work days? .500