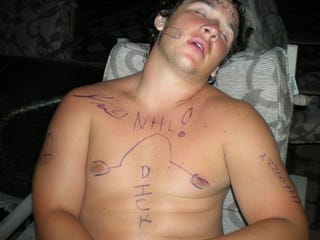 We get a massive amount of tips in our inbox each week. Some are pretty interesting, but don't get published for one reason or another - usually because they're just so absurd or really lack even the most tenuous of news angles to give them the go-ahead. Other times it's because they're just absolute horseshit. But every Friday (Ed.note — usually — today is like Friday for non-Canadians) until we get sick of running them, we'll present to you some of these not-so-shiny gems. All items should be treated as [Sic'd]. Enjoy...Caitlin Davis did not do this:
Subject: Photos of Flyers' top prospect James Van Riemsdyck passed out and written on Hey AJ, Shakey here. I found a picture of JVR passed out on a couch with a penis on his face. Here ya go...
Sorry!
Hello, I recently saw pictures of myself on busted coverage and then on your website, Deadspin.com. I was shocked because I had no idea that someone had put those on my facebook page. I am deeply sorry that those pictures got out, but am asking if you could find it in your heart to take them down, before this gets out of hand. Thank you so much!! Meg Bulger
She's clean as a whistle:
Hi I am Amanda n this picture and I don't know where u got this story from but it is bs.. I know ryan from stlouis hes best friends w my cousins bf.. so I don't appreciate u writing that about me.. we never once made out n the club.. thank u! and u can tell the girl that said this about me thanxs for being jealous.. o and ps I don't have stds thank u!!!!! thats not very nice to say stuff like that about ppl..i wld apprecaite it if u took it off the website. thank u
The Sideline Princess in her natural element
I'm not sure if this is a tip but it sure is entertaining. I'm a big Pitt fan so I decided to make the 5 hour trip to cincy for the Pitt vs UC game last night to watch Pitt disappoint me yet again. We were staying at the same hotel as players and media and whatnot which isn't really interesting except for the fact that Erin Andrews was doing the game. So we go to the game, got disappointed, and decided after to go drink at the hotel lounge to drown away our panther blues. We get back to the hotel and had to run up to the room before depressed drinking in the lounge. We were fortune enough to somehow through an awesome twist of fate ride the elevator up with the sideline princess erin andrews which was cool but not the entertaining part. About an hour later in the lounge erin made her way to the hotel lounge. The lounge had seating around a tv in the middle which we were sitting at and were joined by erin and alot of the espn crew. I had no intention to say anything to erin because I had no confidence that i wouldnt say something creepy or just be creepy in general. So we just sort of ignored them and continued our drinking while occasionally staring at her haha. We got a good picture of her drinking a corona through the greatness of a camera phone. (Ed.note — never sent the picture.) We were in the middle of a somewhat loud drunk conversation when Erin turned to my friend and gave him a rude shush because she was watching tv. She was watching Lee Corso's analysis of something. Who in there right mind would shush someone to hear what Lee Corso would have to say. Also who expects to be able to hear a tv in a crowded lounge full of drunk football fans. So now unfortunately everytime the hot sideline reporter comes on my tv instead of being in awe of her hottness I'm going to remember how she rudely shushed my friend to watch Lee Corso. Another example of why meeting people in person ruins your like, or in this case lust of them.
What's a Trenni Whos-her-face?
Some pics of beat writer Anthony Witrado acting all gangsta at Trenni's going away party in Milwaukee.
Black face Ben Wallace is the new black
Check out photo 10 (Ed.— 12, actually) in this gallery. What the fuck.