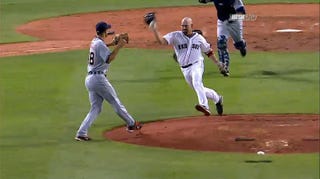 Because no one reads the newspaper, and SportsCenter's anchors are too perky for this early in the morning, Deadspin combs the best of the broadsheets and the blogosphere to bring you everything you need to know to start your day.
•Beanballs lead to blows in Beantown, as yet again a batter fails at tackling the pitcher. Tigers rookie Rick Porcello hasn't gotten many breaks yet, but he's shown he's got major league talent when it comes to bodyslamming irate men who look like the guy from Anthrax.
•Virginia Tech RB Darren Evans is done for the year after a torn ACL. And Bruce Feldman's pick of Florida Atlantic comes one step closer to reality.