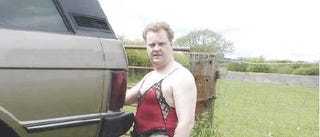 We get a massive amount of tips in our inbox each week. Some are pretty interesting, but don't get published for one reason or another. (NSFW and NOT SAFE FOR CHRISTMAS.)
It's usually because they're just so absurd or really lack even the most tenuous of news angles to give them the go-ahead. Other times it's because they're just absolute horseshit. But every Friday until we get sick of running them, we'll present to you some of these not-so-shiny gems. All items should be treated as [Sic'd]. Enjoy...
Yes, It's Called "Dragoning"
Thanks to the guys at Jalopnik for answering one reader's question, specifically "What the fuck is going on here?!" I was not familiar with the term, but thankfully Ray Wert's raucous crew of gear-heard commenters educated me. And everyone else. Also — we did not pay for this photo.