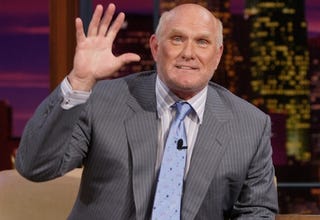 We get a massive amount of tips in our inbox each week. Some are pretty interesting, but don't get published for one reason or another.
It's usually because they're just so absurd or really lack even the most tenuous of news angles to give them the go-ahead. Other times it's because they're just absolute horseshit. But every Saturday until we get sick of running them, we'll present to you some of these not-so-shiny gems. All items should be treated as [Sic'd]. Enjoy...
Terry Bradshaw Likes Tom Brady A Little Too Much, Some Texans Say
Maybe he isn't as important as he once was, but this guy pretty much came out the closet at this "get motivated" seminar yesterday. He never really talked about getting motivated, it was just plan weird...he said, "one time when he was interviewing Tom Brady, that he just drifted off and thought if I were to ever jump the fence it would be with Tom, he's such a handsome man" and "how he wouldn't hesitate, if the opportunity presented itself". This Brady talk was for a minimum of 10 minutes of his speech, I shit you not. There was more, but that was the part all of us couldn't believe, he also said he slept with his cat last night, I have no clue wtf this guy was on about. The tickets were actually pretty pricey, but they gave some to the military, so that's how we got to go. It was in Beaumont, TX, Thursday march 25. He said a bunch other weird stuff, just let me know if it's worth rehashing over with my the guys in my department, we all thought it was funny and weird.
Nice Try


Skip Bayless Has The Strangest Fans
I googled Skip Bayless pictures and at the top of the page was a group of four pictures, one of yours showing him shirtless looking like he's engaged in a sex act. Do you have any other pics of him? There's another one next to yours of him sitting on the john nude with a naked guy standing in front of him with his dick in Skip's face. I can't click on that one because I get a message saying the site can't be found.

Jim Jackson
This Is What Happens When You Take It Too Far