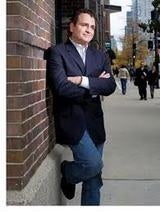 From the LA Times: ESPN personality and sports columnist Jay Mariotti was released from jail on $50,000 bail Saturday, hours after being arrested on suspicion of felony domestic assault, authorities said.
Mariotti got angry after he believed his girlfriend had been flirting with another man, police sources said. ... The argument continued at the couple's apartment near Venice where Mariotti allegedly pushed and shoved the woman. During the altercation, Mariotti grabbed her arm, leaving marks, the sources said.
If anyone was at this bar in Santa Monica last night and saw any of the "argument" which allegedly occurred, please drop us a line.
From earlier: Jay Mariotti Arrested, Possible Domestic Disturbance