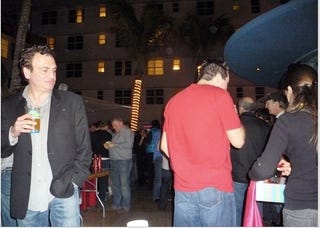 Here's what the LA Times says about the overnight arrest ...
[Mariotti] was booked on suspicion of a felony, but officials would not provide further details.

A source with knowledge of the case described it as a domestic disturbance charge involving his girlfriend. He was being held on $50,000 bail.
[Updated at 9:30 a.m.: LAPD sources said Mariotti allegedly got into an argument with his girlfriend at a club in Santa Monica.

The argument continued at the couple's apartment in Venice, where some type of physical altercation allegedly occurred. Police were called to the apartment, and Mariotti was arrested. He is currently being held at the 77th Street station.]
(H/T Michael Knight)
UPDATE:
ESPN republished the AP's story on their home page.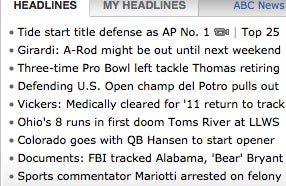 Fanhouse has yet to comment, but corporate communications is working on a statement.
If anyone was at this bar in Santa Monica last night and saw any of the "argument" which allegedly occurred, please drop us a line.