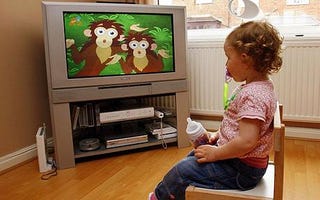 Drew Magary's Thursday Afternoon NFL Dick Joke Jamboroo runs every Thursday during the NFL season. Find more of his stuff at his Twitter feed.
I have a television in my house that I use to watch football. I meant to get this TV mounted on the wall, but have yet to do so because I'm lazy and cheap. This is stupid of me, because I have a son who is a year old and can reach this TV. He has, more than once, walked up to the screen and banged his hands against it. He also threw a toy train at the set once. The throw, mercifully, fell just short.
Both times this happened, I reacted with absolute horror. NO! NO NO NO! WE DO NOT BANG THE TV, YOUNG MAN! The TV's life flashed before my very eyes. The LCD shattered. No more football. No more seeing Tony Bourdain eat meals I have no prayer of eating myself. I found myself shouting at my kid, and jumping over things in order to violently get him away from the set. I get much more upset if the TV is endangered than I do if say, the child is threatening to scratch an armoire, or break an heirloom vase, or destroy some other equally costly yet utterly boring object.
Wives do not like it when you openly covet your electronic goods in this manner. Both times I have sternly reprimanded the child for nearly wrecking the TV, she has reacted with fundamental disdain.
WIFE: You love that TV more than you love your children.
Let's just get this out of the way: Of course I love the television more than my own children. That TV cost a mere $700. I spend that much on diapers every fucking year. It has a functional mute button, which means I do not have to hear it if I don't want to. The people who appear on the TV set are far more articulate than my 1-year-old, and thus more interesting to listen to (unless the people in question are Chris Berman and Steve Young). The TV takes up less space and doesn't leave toys and bits of cake all over the goddamn place.
I don't think it's a sin to love an inanimate object that brings so much joy into your life and provides so much value given what you pay. But some people take that love and want you to think it's all twisted and misguided. OOOOH, LOVING TV IS WRONG! WHAT KIND OF VALUES ARE WE TEACHING THE YOUNGER GENERATION?!
Oh, bullshit. I am through being ashamed for valuing my TV above all other objects and loved ones. In fact, I will leave that TV unmounted, specifically so that my kid can break it and I can kick his ass, and then I can go buy a larger one.
The Games
All games in the Jamboroo are evaluated for sheer watchability on a scale of 1 to 5 Throwgasms.



Five Throwgasms
Packers at Bears: Reader Roger writes in:
Wouldn't it be way more awesome if safeties DEDUCTED points from a team's point total? I don't know about you but I would enjoy looking at a box score for an NFL game that read: Dolphins 17, Browns -2. Just seems more awesomely demoralizing.
Indeed it would. My old thought was that safeties should be worth 4 points, because they're crazy fucking awesome. Taking points away from the offensive team isn't fundamentally that different from awarding the defensive team two points. But it's way more EVIL to take the points away. It's just a total cock move, and I support the idea wholeheartedly. Besides offensive goaltending in basketball, there are no infractions or plays in any major sport that take points away from a team. And goaltending doesn't really count, since it's just taking away a score that never should have counted. I like the idea of dicking a team out of points it earned somehow. Unless it were to happen to my team, in which case I'd destroy the world.
Falcons at Saints



Four Throwgasms
Steelers at Bucs: Two years ago, I wrote this post about the death of the black quarterback. This Bucs-Steelers matchup features two black QB's starting (Josh Freeman and whoever Mike Tomlin chooses between Fatwich and Charlie Batch), though the Steelers QB will just be a seatwarmer for Big Ben. Of the four quarterbacks pulled from games last weekend, three were black: David Garrard, Vince Young, and Jason Campbell. As of right now, there are only three black quarterbacks in the NFL who have secure starting jobs: Freeman, Michael Vick and Donovan McNabb. That's it. And Vick just barely makes the list after Andy Reid stopped huffing Reddi Whip on Tuesday. That's down from four black quarterbacks in similar situations two years ago.