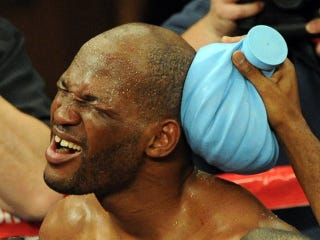 Because no one reads the newspaper, and SportsCenter's anchors are too perky for this early in the morning, Deadspin combs the best of the broadsheets and internets to bring you everything you need to know to start your day.
• Bernard Hopkins didn't lose a fight last night, but lost in his bid to break George Foreman's oldest-to-a-belt record. (This judge — who didn't use whiteout — scored it at 114-112 Hopkins, being a homer that excused one of two official knockdowns as donkey-punch related). North Philly represented after a slow start [The Ring]. Rematch requested [Fanhouse].
• The Miami Heat trailed the Washington Bullets (aka Wizards) by five points with 32.6 seconds. The Heat won by one [Miami Herald]. The Bullets (aka Wizards) also traded Gilbert Arenas to the Orlando Magic [Orlando Sentinel]. The Magic proceeded to get roughed up by the Philadelphia 76ers, who revel in playing teams with depleted rosters [Philadelphia Inquirer].
• Minnesota Vikings QB Joe Webb's starting streak begins at one, as Brett Favre's sitting streak reaches two. [Star Tribune]
• Washington Nationals fans don't much like Jayson Werth saying he misses Philly on the radio [Nationals Enquirer]. And then there's this...

• Inter Milan wins the FIFA Club World Cup by dispatching African upstart TP Mazembe 3-0. This leads to unrest in Lubumbashi.
Reports say disappointed fans took to the streets and attacked Chinese-run businesses, after TP Mazembe were beaten 3-0 by Italian club Inter Milan.
They are believed to have thought the Japanese referee was Chinese, and were angered by some of his decisions. [BBC]
• Ralph Friedgen, out. [Baltimore Sun]
• The purported No. 1 high-school football team in the county lost the Texas state championship because of a fifth-grade sandlot-game "dead man" ruse. So, they're really not the No. 1 high-school team in the country after all, are they? [Houston Chronicle]


(Better quality video linked here.)
• Now (probably) pitching for YOUR Milwaukee Brewers: Zack Greinke! (And no, sick Jon Heyman impersonator isn't the source). [Milwaukee-Wisconsin Journal Sentinel]