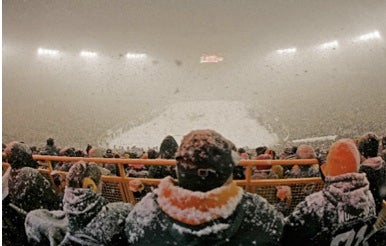 Drew Magary's Thursday Afternoon NFL Dick Joke Jamboroo runs every Thursday during the NFL season. Find more of his stuff at his Twitter feed.
Every sportswriter has a pet cause, one he brings up again and again and again until you want to punch him in the face. For Peter King, it's getting Ed Sabol in the Hall. For Simmons, it was getting HORSE at the NBA All-Star Game. For Gregg Easterbrook, it's exterminating the Jews. Once a sportswriter has a pet cause, he won't let that shit go until it's resolved.
I am not immune to this. I have a pet cause as well. And that pet cause is getting NFL football back on TV during Saturday afternoons in December. It has now been five years since the NFL last played an afternoon game on a Saturday in December. Those Saturday games used to be a mainstay of the NFL schedule, until the NFL abruptly dropped them after they decided to stage a Saturday Night game instead. I never understood the logic of that decision. It's not as if Saturday afternoon games would have cannibalized the night game. I am like a good running back: My laziness grows stronger as the games wear on. Nevertheless, the NFL dropped those afternoon games. And this year, they're only staging ONE Saturday night game, which is the Christmas Night game this week between Dallas and Arizona. BARF.