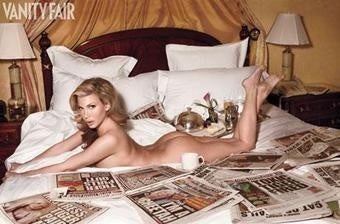 Remember Loredana Jolie, former Playboy model and "self-appointed title as Mistress No. 15 with a tell-all, 'The Real Diary of Loredana Jolie'"? Yeah, me either, until I saw that picture again.
Anyway, the New York Post is reporting that Ms. Jolie has designs on fronting "an Upper East Side full-facility spa, charmingly called Tigress."
"She's finishing cosmetology classes," a friend of Jolie told us. "She's found a location and plans to open the spa in March."
Ms. Jolie also hopes to facilitate personal-world peace.
Jolie was overheard telling friends at the Chelsea Room she wants to help women catch men who are lying: "I'm done with married men," she said.
Related: Your Tiger Woods Vanity Fair Preview Recap: Sex In Cars And Subway Chicken Wraps Do Not A Girlfriend Make