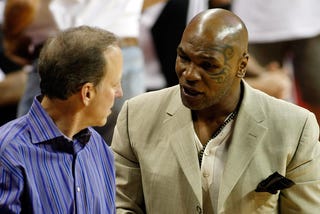 Because no one reads the newspaper, and SportsCenter's anchors are too perky for this early in the morning, Deadspin combs the best of the broadsheets and internets to bring you everything you need to know to start your day.
• Jim Gray, who is part of a Super Bowl radio team, sat down for an interview on ESPNRadio1100. He had a problem with those who deemed Ben Roethlisberger going out for drinks with friends to be a newsworthy event. Talked a little boxing, but doesn't think a hypothetical Pacquiao/Mayweather fight should be held in Dallas. Then, he couldn't seem to grasp why he was being asked about his source dealings. [Werlv] (Photo from Zimbio, H/T to Shane E).
• After Dwight Howard mocked his pregame ritual, LeBron James scored 51 points against the Orlando Magic last night. [Miami Herald]
• A crime-prevention agency in Fort Worth has launched a "Friends... For Life!" campaign designed to encourage female revelers to arrive and leave events together. Yes, that's where the Steelers are staying. [Star-Telegram]
• Tallman Trask III, executive vice president and the chief administrative and financial officer for Duke University, was asked whether the basketball team playing against the Chinese national team would "strengthen the Duke brand."
Trask smiled and said, "It wouldn't hurt it."
Then, the smile went away from Tallman Trask III's face as he proceeded to barbecue an orphan of poor lineage. [Duke Chronicle]
• Three University of Iowa Hospital employees were fired and two placed on unpaid suspensions for inappropriately accessing the medical records of 13 football players who were hospitalized last week. [WCCI]
• Andy Pettitte announced his retirement after 16 years on the mound yesterday. He'll have a press conference at Yankee Stadium today to re-announce it. [New York Times]
The threat of a major elbow injury haunted Pettitte, who has said it was always in the back of his mind. Three times in his career, he was placed on the disabled list with elbow problems. Twice, he has acknowledged, he used human growth hormone to speed his recovery.
• Yep, someone took the time to rank the "13 Sexiest Cheerleader-Related Scandals in Sports History." [Ranker.com]