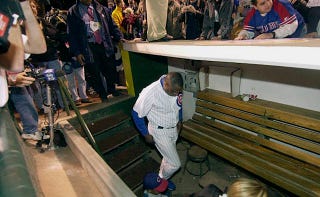 Jon Paul Morosi has a nice little profile of Cubs manager Mike Quade, but he buries the lede. Namely, that in Dusty Baker's last season in Chicago, someone left a going-away present for him.
"At the very end, somebody took a dump right where I stood in the dugout every day," Baker said Monday morning. "That was the low point. The grounds crew guy cleaned it up. He said, 'Oh, I think it's dog crap.' I said, 'No it ain't. That's human crap.'"
Baker says he still doesn't know who the poopetrator was, so it's unlikely we can I-Team this one and find out. But it's still fun to speculate. Noted public pooper Nyjer Morgan wasn't a major leaguer yet, so he couldn't have done it as a visiting player. Noted crazy person Milton Bradley wasn't a Cub yet.