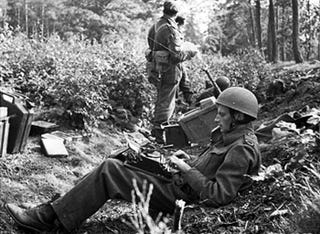 Every time some awful tragedy happens—natural disaster, terrorist attack, swine flu—a handful of idea-starved sports hacks sprint to their keyboards or their microphones and unfurl some drivel about how "this really puts sports in perspective."
So we have this delight from Joe Buscaglia at WGR 550 AM in Buffalo, seeing the NFL's labor dispute in the cold light of the devastation in Japan:
The fact that these two sides are too stubborn to even extend talks without going directly to court for the common good of every person in America is incredibly infuriating. And because it's a $1 billion dollar pie that they can't decide how to split up evenly, the every day common person like you and me are left wondering why it is we even support the league with alot of our time and energy.

And it coming on the SAME EXACT DAY that a devastating earthquake and tsunami combination ravaged Japan, killing hundreds with even more missing is even worse. Here's an idea for your billion dollars that you can't seem to agree on. How about sending it over there for relief efforts. How about sinking it in to the national debt if you don't like that idea? Anything could be more constructive than what you're doing right now.
Or this (literally titled "Earthquake puts sports into perspective"), from Amanda Rykoff at ESPNW:
But it all feels small and unimportant right now in the wake of Friday's devastating earthquake, which caused a tsunami that struck Japan and is rolling through the Pacific region. The ACC and Big Ten tournaments are on right now and I just can't watch. I'm riveted to the news.

[...]

I lived and worked in Tokyo during the fall of 1996. My immediate family is in California. As much as I love sports (and you know that I do), the NFL labor talks and how many tournament bids the Big East conference gets seem unimportant.
Make no mistake: this stuff is no better than the hackery over at Bleacher Report. These writers are pimping the suffering, too, but taking refuge on the safer side.