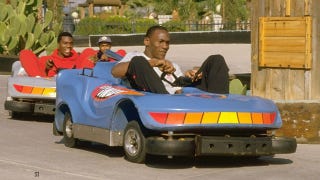 Your p.m. roundup for July 21, the day we learned Lady Gaga totally ripped off Grace Jones. Photo credit to the SI Vault. Got any stories or photos for us? Tip your editors.
What we're watching (all times EDT, unless noted): We're wondering why Dan Shaughnessy felt the need to throw a few quips about this newfangled Twitter thingamajig into his column today. To read it is to marvel that Shaughnessy was even able to finish typing without his fingers becoming completely ossified. So let's blow the dust off him, shall we?
Pardon me if I sound like Larry King, but what's up with this Twitter madness? It strikes me as trendy, immature, and entirely unnecessary. What you had for lunch is of no interest to me. Increasingly, tweeting seems to be getting athletes in trouble.
Yeah, because newspaper columnists who begin sentences with phrases like, "Pardon me if I sound like Larry King..." are far more insightful and deserving of our attention than some jagoff who feels compelled to tell his followers he went to Burger King this afternoon. And, as we all know, there's nothing trendy about some high-minded scribe bitching about all that Tweetin' goin' on out there when he's trying to take a nap. Nope. That never happens.