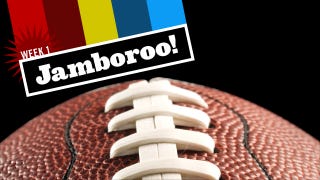 Drew Magary's Thursday Afternoon NFL Dick Joke Jamboroo runs every Thursday during the NFL season. Buy Drew's new book, The Postmortal, through here. Find more of his stuff at his Twitter feed.
Holy holy holy holy holy holy holy SHIT, you guys! It's here! It's really here! I never thought it would be here, but it's HERE! The NFL! In the flesh! Every precious week, every lovely game left beautifully intact! Oh, how I've missed it so! I'm so happy I wanna break into your car and jerk off on your steering wheel, I'm so excited!
We were so close to not having this. We were so close to Jerry Richardson seeing all those tattooed thuggity thug players out there taking too much of his money and getting so pissed off with white rage that he was gonna shut the whole fucker down. We were this close to Roger Goodell fucking it all up because the only thing Roger Goodell knows how to do in the face of a crisis is suspend people. "What do I order for lunch today? DURRRRR I DUNNO I BETTER SUSPEND JAMES HARRISON FOR 2.3 GAMES." We were this close to having a fall completely devoid of NFL games. And that would be on top of a fall completely devoid of many NBA games that I would never ever watch, which would really leave a hole in my heart. We were this close to baseball reconnecting with the American public and experiencing a latter day renaissance, and thank Christ that didn't happen because baseball is gay.
We were this close to football going away and, without that distraction, realizing that our nation is slowly becoming a third world country, waking up from our NFL-induced slumber and revolting against the powers that be to make America a great country again, instead of a rancid oligarchy in which middle class success is too much of a profit burden upon the superrich. That nearly HAPPENED. And good thing it didn't, because my back issues prevent me from engaging in any overly vigorous revolutionary activities, not unlike Reg in Life of Brian.
The NFL is a necessary part of both my life and the lives of millions of Americans. Is it rational? No. Do many NFL games fail to live up to expectations? Yes. But in many ways, the end result doesn't matter. What matters is that we're given something to look forward to. A milestone. A life signpost that we can aim at, to know circumstances will change and fun things will happen.
I'm 34 years old, and my life now more or less revolves around making sure I have things to look forward to. When I had a girlfriend, I looked forward to getting engaged. When I got engaged, I looked forward to getting married. When I got married, I looked forward to NOT having kids for a bit, and then finally giving in and having them. and now that I have kids, I get to look forward to them leaving the house so I can watch whatever I want and not have to clean up all their shit. You need those signposts. You need something that tells you today may suck, but that there's something on the horizon that may not. Like phone sex. I am essentially a 95-year-old grandpa waiting for his grandkids to visit for five minutes each year. I live perpetually a week or a month ahead of myself. If I know there's a rare night of going out and drinking with friends in my future (like tonight), that's what occupies the bulk of my thinking when I'm not obsessing over sex or food. I imagine the night in my head over and over for no reason at all. And even if the night is a letdown, I still make note of the NEXT time I get to go out, so I can wallow in the anticipation all over again.